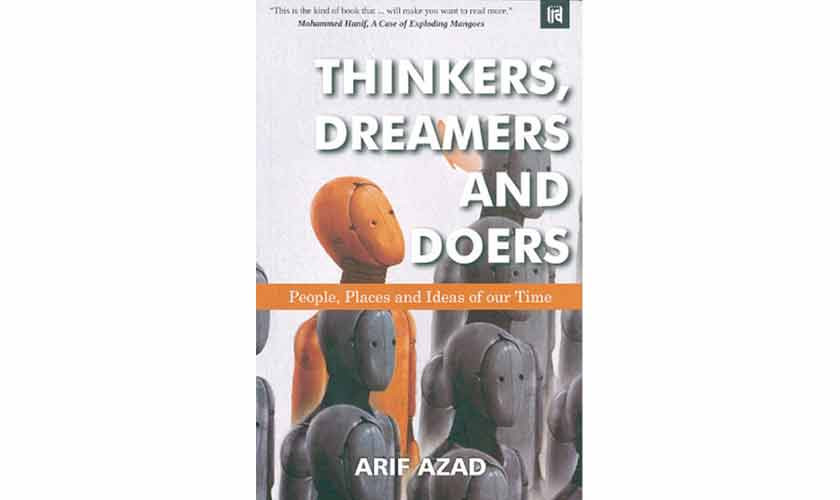 Borers, Thinkers, and Doers: People, Places, and Ideas of Our Time is a collection of essays by Dr. Arif Azad, published in various journals and journals over the past two decades.
The book seeks to uncover various aspects of current political, social and literary issues and is a gripping account of some of the people who have influenced intellectual discourse locally and globally. With a keen understanding of the issues, a modern sensibility and a rational approach, Arif weaves together facts and analyzes them in a way that arouses readers' curiosity and adds value to their understanding of the contemporary world. Without using cliché jargon, the author explains the issues with a realistic approach. He takes readers on a journey to explore the issues rather than face the flippant answers. The author's light language, fresh perspectives and charming style are reminiscent of the prose of Khalid Hassan.
The first part of the book deals with contemporary discourse in world literature. Some articles, such as The Treatment of Night in Literature and The Nations and National Literature, provide new insights into the symbolism and politics of literature. He took up Naipaul's colonial heritage and discussed the debate between Anglophiles and postcolonial authors over his artistic credentials and political ideas. His article on Shakespeare after 400 years beautifully portrays the relevance of the bard, his influence on people's thoughts and theater in Pakistan and around the world.
The second part deals with cinema, television soap operas and filmmakers. A detailed commentary on their films, political ideas and art introduces readers to these great artists. Here, Arif illuminates the subtle beauty of art. For example, when discussing a film about Anna Karenina, Arif explains how themes of belief, love and fidelity, morality and individual freedom are inventively handled in the film.
The third part reviews some notable books. Evaluation of a book on Jeremy Corbyn, who is personally known to Arif, gives a detailed account of the man and his political environment. This section also discusses Ripper – a great forgotten but recently rediscovered novel about campus life and its malaise. In Part Four, Arif presents an in-depth analysis of various political movements and their impact on life in different parts of the globe. This includes the impact of radical anti-racism, the national liberation and socialist movements of 1968 on world politics, the rise and fall of the Russian Revolution after a hundred years, the rise of the right in Europe, Bernie Sanders and the Pakistan's contemporary political landscape.
Arif Azad interweaves facts and analyzes them in a way that arouses readers' curiosity and adds value to their understanding of the contemporary world..
A section of the book is dedicated to extraordinary progressive journals like Lotus, Point of view and South. The Lotuspublished in Beirut, was edited by Faiz Ahmad Faiz and represented progressive voices from around the world, particularly the Middle East. Point of view, a weekly magazine published in Lahore, edited by Mazhar Ali Khan and his team of illustrious journalists like Prof. Amin Mughal, IA Rehman and Zafar Iqbal Mirza, bravely resisted the overwhelming fear of the Zia regime in Pakistan. Another section composed of Arif's stays through Warsaw and the Zagreb-Belgrade route presents an in-depth analysis of the evolution of societies in the Balkans.
The seventh part highlights some great Pakistani personalities like ZA Bhutto, Suhrawardis, SM Burke, Alys Faiz, Patras Bokhari, Nawabzada Nasrullah Khan and Malik Meraj Khalid. Among left-wing political leaders and intellectuals, this section refers to the life of Alys Faiz, Sheikh Mohammad Rashid a.k.a Baba-i-Socialism, journalist Abdullah Malik, academician Hamza Alvi and Zafaryab Ahmed. Hamza Alvi presented an innovative analysis of the overdeveloped state of Pakistan. Zafaryab Ahmed once represented the soul of left-wing youth in Lahore. Those who knew Zafaryab would love to read this article about this loving, jovial, witty and uncompromising activist in the socialist camp in Pakistan. Arif also pays tribute to the radical and very talented Trotskyist leader, always driven by the passion to paint the world red – Dr. Lal Khan. Finally, the colorful narration of the nightingale of Pakistan, multi-talented artist Noor Jehan, adds charm to this great pantheon.
The last section concerns people who have influenced political and literary discourse on a global scale. While Naipaul, in this section, represents the white supremacist point of view, Sivanandan, an anti-racism activist, shines a light on anti-colonial sentiment across the world. This section also includes other great literary giants like Philip Roth, Norman Mailer, the brilliant Marxist historian Eric Hobsbawm, the Marxist scholar and translator of Faiz's poetry Victor Kiernan, the journalist Joan Didion and the great Polish political theorist and thinker Kolakowski. This section becomes more engaging with the vivid depiction of the lives of political theorists and practitioners like Fidel Castro, Nelson Mandela, Tony Benn, Edward Kennedy, Helmut Kohl, Joyti Basu and Christopher Hitchens.
Arif has a rational approach to life, influenced by a modern sensibility – informed and inspired by local and global human rights movements. The work shows Arif's deep understanding and diverse exposure to various academic institutions and practical involvement in contemporary social and political movements. I first met Arif when he was a young medical student in Lahore, an avid reader of English literature – always engaged in literary and political debates. He then moved to the UK, where he became involved in human rights campaigns against racism and for immigrant rights and in defense of the political rights of marginalized groups. Later, he studied public policy at Birkbeck College, where Eric Hobsbawm also taught. After that, he landed at Umea University, Sweden to get his master's degree in public health. He has worked in Pakistan and the Middle East with Doctors Without Borders as a public policy consultant and health expert.
The book shows the intellectual journey of a man who has a keen interest in literature and extensive work experience as a social scientist and human rights activist, both nationally and internationally.
Book: Dreamers, Thinkers and Doers: The People, Places and Ideas of Our Time
Author: Dr Arif Azad
Publisher: IRD-IIU, 2022
Pages: 285
Price: Rs 750
---
The critic is a novelist and a translator