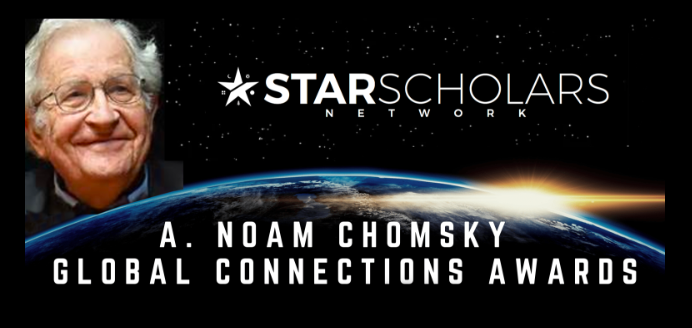 A. Noam Chomsky Global Connections Awards 2022 for Scholars
Deadline: October 31, 2022
The STAR Scholars Network is now accepting nominations for the A. Noam Chomsky Global Connections Awards 2022. The Global Connections Awards recognize "STAR Scholars" for their distinctive achievements and contributions to transnational research that demonstrate the best in scholarship and/or or collaboration between academics. around the world.
The STAR Scholars Network is committed to promoting transnational research and collaboration among scholars from different countries (e.g., joint publications and research partnerships) that positively impact humanity beyond national borders.
Price categories
In December 2022, the STAR Scholars Network will award awards in four categories:
North Star Lifetime Achievement Medal: This is the STAR Scholars Network's first recognition for outstanding achievement and success in cross-national research. The Medal honors an accomplished researcher whose lifelong service, leadership and contributions serve as a "North Star" guide for scholarly work and research collaboration. Shining Star Search Award. Each year, the STAR Scholars Network celebrates up to two (2) exemplary works in translingual and/or transnational research.
Shining Star Research Award: This prize recognizes influential scientific contributions in all disciplines and all languages. Submissions may include media grants in the form of podcasts, TED talks, documentaries, mini videos (e.g. You Tube), publicly available Sound Cloud files, as well as scientific journal articles, books, book chapters and other forms of scholarship.
Rising Star Emerging Scholar Award: Each year, the STAR Scholars Network recognizes up to two (2) emerging scholars who have shown promise and commitment to cross-national research. An award will recognize an emerging researcher (post-terminal degree graduate) in any field who has distinguished himself as a rising leader in transnational research. The other award will recognize a current graduate student who has demonstrated great promise in advancing transnational research through publications, leadership, or other relevant contributions.
Star Humanitarian Award: A new award, created in 2021, recognizes humanitarian efforts aimed at creating equity and/or academic balance. Applicants can be organizations (e.g. higher education institutions and NGOs) that have had a profound impact on global equity and/or a humanitarian whose work is fundamental to equity, transnational connectivity and /or scholarship. The STAR Scholars Network will recognize an organization or individual who is both a humanitarian and an innovator. The recipient's work must demonstrate potential for global reach and impact (i.e., it must strive for equity and collaboration).
Eligibility
Eligibility Requirements for the North Star Medal of Lifetime Achievement:
Applicants must demonstrate a history of educational leadership that spans at least 15 years, as evidenced by their teaching, research, service, and mentorship.
Applicants should have a comprehensive record of publications that demonstrate a long-standing commitment to fostering transnational research relationships among scholars around the world.
Applicants must have an academic record that has had a visible impact in creating a more humane world.
Shining Star Achievement in Research Award Eligibility Requirements:
The scientific work must have been created, "published" and/or made available after July of the year preceding the recognition. (Note: for the 2022 cycle, only scientific publications or contributions dated July 2021 or later will be considered).
The award recognizes creators, lead authors, editors and/or core associated contributors.
Any piece or scientific work that is not in English must be accompanied by an audio or typed translation in English to ensure that committee members can be involved in the award selection process and can speak with experts in the language of submission, if necessary.
Eligibility Requirements for Rising Star Emerging Scholar Certificate:
Non-student applicants must have completed their terminal degree no more than five years before being considered.
Applicants must have demonstrated scientific promise and commitment to transnational research, as evidenced by their teaching, research, service, and/or mentorship.
Eligibility requirements for the Star Humanitarian Award in Global Health:
The nominee's work must have a transnational impact.
The work must have the potential to benefit humanity in multiple regions of the globe.
Terms
All winners must be members of the STAR Scholars Network at the time the awards are presented at the 2022 Annual Conference.
Nominations could come from any discipline and in any language. In the case of non-written language, audio nominations can be submitted via Whatsapp at 443.422.5923 and/or email at [email protected]accompanied by an English translation
Please note that self-nominations will not be considered.
Applications
STAR Scholars Network members and others are welcome to submit electronic applications in any language. Complete the online application on the STAR Scholars Network website or send an email titled "STAR Award Nomination" to Awards Committee Chair Dr. Anita Pandey at [email protected] Only complete files will be considered.
All nominations must include the following:
Nominator information (i.e., name, email, phone number, title, and affiliation)
Applicant(s) information (i.e. name or title, email, phone number and/or affiliation)
The awards category
A brief biography of the nominee (
A brief description (
Applications may include up to five attachments. Suggested attachments include, for example: the applicant's CV/curriculum vitae, letters of appointment, an example of the applicant's academic contributions, or any other supporting documentation that demonstrates a commitment to transnational research.
Special Considerations:
Nominations for the North Star Medal of Lifetime Achievement must include a statement highlighting the nominee's career and contribution to transnational research.
Nominations for Shining Star Achievement in Research must include a PDF or image of the rated achievement in Transnational Research.
Nominations for the Star Humanitarian Award must include a statement (
For more information, visit STAR Fellows.