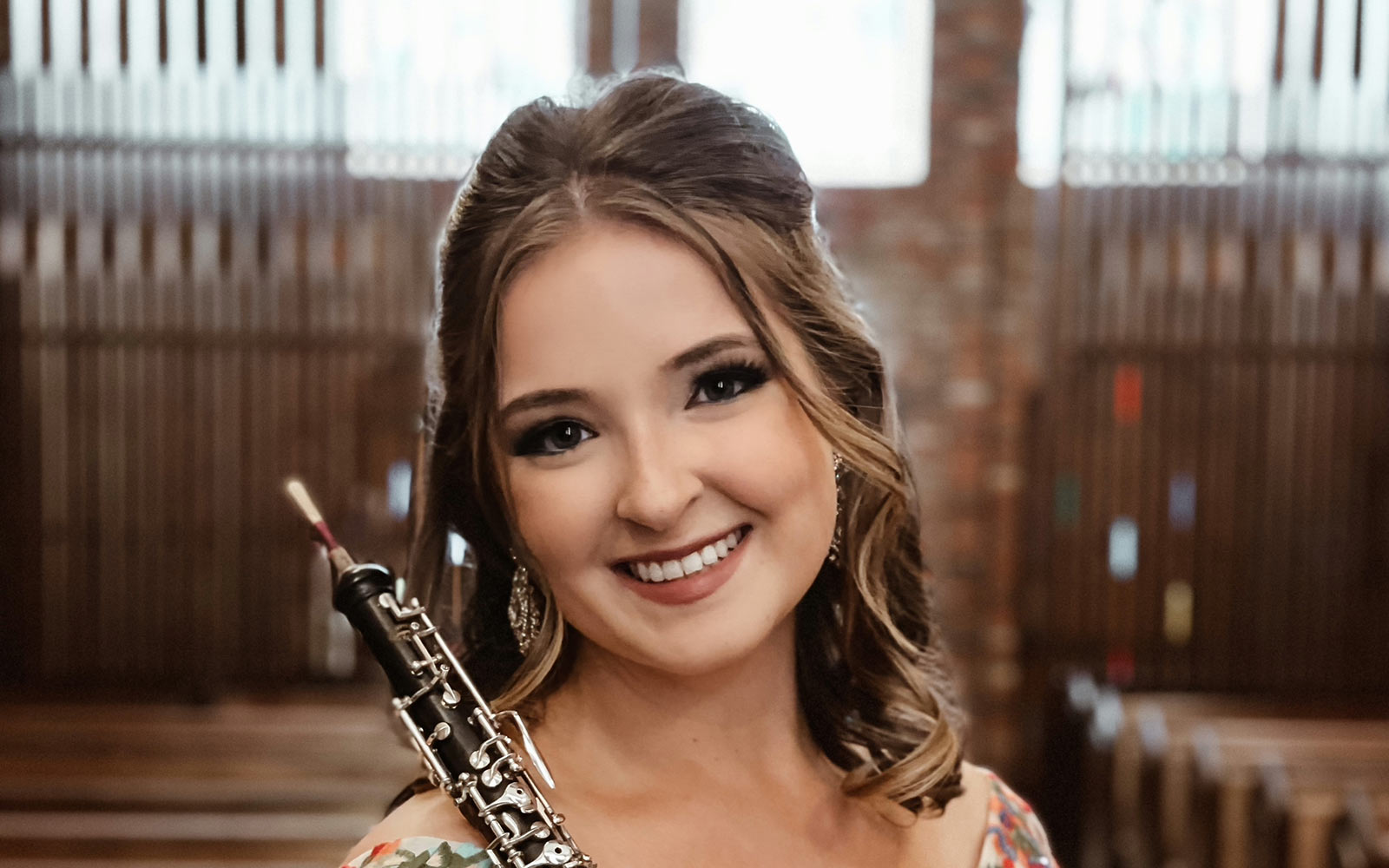 Accomplished student oboist set to perform at MSU Ragtime and Jazz Festival as Docher Award winner
Contact: Harriet Laird
STARKVILLE, Mississippi—Mississippi State senior Madeline Lee of Ocean Springs will be honored with a prestigious varsity award this weekend at the 16th annual Charles H. Templeton Ragtime and Jazz Festival taking place from August 24 to March 26.
The Keyone Docher Student Achievement Award is given annually to an outstanding MSU student majoring in music and is named after former music education major Keyone Docher, performer of the 2014 Templeton Festival. event, influenced by the talent of the young artist, chose to honor him with this recognition after his death the same year.
Lee, who takes the stage on Friday [March 25] at 7:30 p.m. at the McComas Hall Theatre, said of the honor, "This is an instructor-selected award, and knowing that professionals in my future field have identified me as someone recognized in my department is an overwhelming feeling.
Performing at the "Rag-a-Jazz: Sweet AND Hot!!" party concert, the oboist also explained that music is the "one thing" that is a constant in difficult times and can be "as much a joy to those who listen to it as a joy to practice and play.
"I love music more than anything, and to realize that I am a line of individuals who, like Keyone, have been recognized for their courage and perseverance is a humbling honor," she said. "I know Keyone's passion touched so many lives, and I'm grateful for the legacy of excellence he left for Mississippi State."
The St. Martin High School graduate is principal oboe and soloist for the MSU Music Department Wind Ensemble and is a member of Oboe Studio, the Double Reed Ensemble and the Famous Maroon Band. Under the guidance of her university professor Jessica Haislip, Lee has also performed as a soloist with the Starkville Symphony Orchestra as the winner of its 2021 Concerto Competition and with the Corinth Symphony Orchestra. She has also performed at the American Bandmasters Association conference, the Mississippi Bandmasters Conference, and numerous MSU Double Reed Day and Oboe Studio recitals.
Outside of her music studies, Lee has served the music department in leadership roles with the Kappa Kappa Psi Professional Group fraternity as MSU Chapter President and Vice President of Southeast District Programs, and is currently district president. The Shackouls Honors College student presented at the Undergraduate Research Symposium and was published in the college's Streetcar Literary Journal. His future plans are to work towards advanced degrees in oboe performance.
Previous Docher Award winners include Eli N. Denson of Decatur, Alabama; Daniel A. Rorabaugh of Long Beach; Quinlan X. Gray of De Kalb, Texas; Catherine N. Patriquin of Ocean Springs; Abby L. Weinstein of Marietta, Georgia; Tyler J. Stallings of Pontotoc; and Sarah G. Wallace of Brandon.
To learn more about MSU libraries, visit www.library.msstate.edu; College of Education and its Department of Music, www.educ.msstate.edu and www.music.msstate.edu.
MSU is the main university in Mississippi, available online at www.msstate.edu.