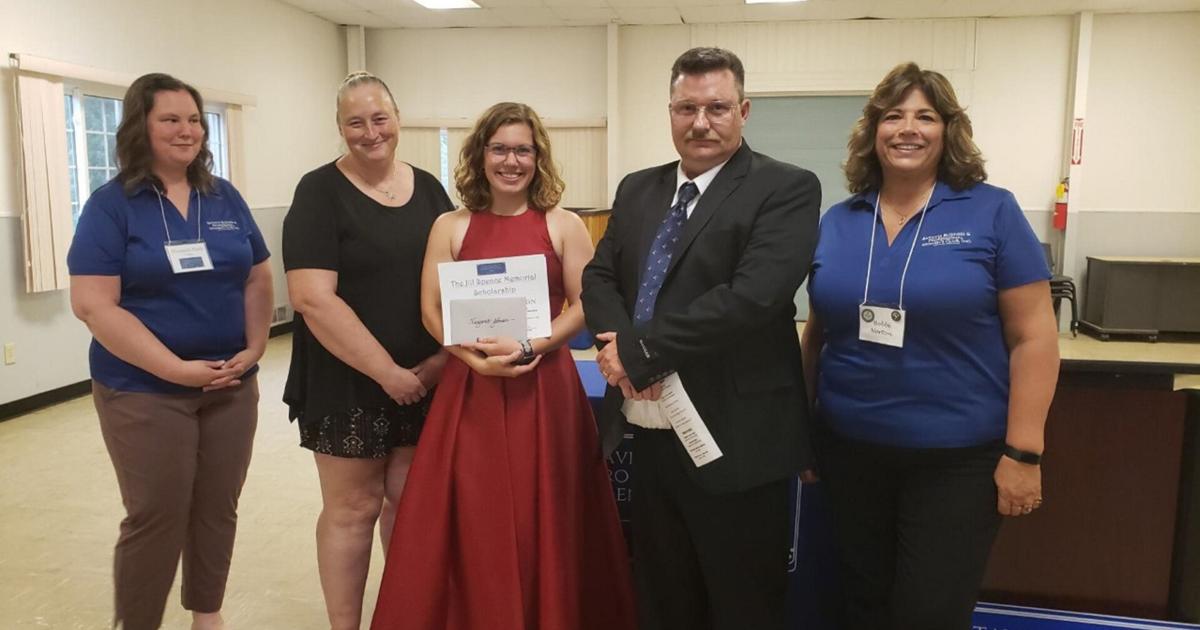 Business & Professional Women's Club Launches Scholarship | Featured Story
EAST BETHANY – The Batavia Business & Professional Women's Club, Inc. had several local organizations to honor with Community Service Awards this year as well as 10 high school students to whom it awarded scholarships. A new honor was also bestowed at Thursday evening's banquet – a scholarship in honor of a woman from East Bethany who died in April.
The Jill Spence Memorial Scholarship was presented in honor of Jill Spence, who had served as Director of Ambulatory Pharmacy at Strong Memorial Hospital. The first prize honoree was Pembroke Jr/Sr High School student Margaret Johnson.
Jill's brother, Ed Spence, said that with the club and Jill in charge of outpatient pharmacy and in business, the scholarship in his name just seemed like a good fit. He said his sister was friendly, had a big heart and was easy-going.
For Johnson, Ed Spence's advice was, "It's good to be nice in business. It's good to have a big heart. It's good to be friends with everyone.
Spence said that once, before a trip to Disney, Jill "robbed" her nieces and took them out for ice cream.
"She was always doing stuff like that. She was the favorite aunt," he said. "She always had the presents, the sweets."
Ed Spence later told the audience at the banquet that Johnson had not been shy about answering questions when looking for a recipient. Johnson reminded her of her younger sister, who passed her grades in high school and knew exactly what she wanted out of life and how she would get there.
"Jill would be honored by the qualifications of this candidate," he said. "She (Johnson) was humble but very confident and told us about all her plans for college. Margaret is going to be an asset to whoever she decides to work for. I guarantee she will have a choice of where she wants to go to work. I applaud the many years of dedicated schooling she has had so far and to her parents for an outstanding job in raising a wonderful, well-rounded daughter.
Community service awards were given to Alzheimer's Association, Batavia Community Schools Equity Opportunity Family, Community Action Orleans and Genesee, Crossroads House, Genesee Cancer Assistance, Cornell Cooperative Extension Genesee County , Project Stork, Inc. and The Bridge Addiction Recovery, Inc. .
not Stork Project Director Jenny Staebell accepted the award for her organization.
"We provide resources and supports to low-income families across Orleans and Genesee County, specifically looking at maternal mental health issues, prenatal and postpartum transportation barriers," she said. "We are making sure families have access to transportation to and from (appointment). If it's fuel, it's an alternative mode of transportation. Currently, we provide assistance to over 235 families.
Project Stork also examines a family's inability to meet the basic needs of an infant or toddler.
not Lynn Westcott of the Alzheimer's Association accepted the award. She talked about how the money donated to the association comes back to the community.
"The Alzheimer's Association offers free programs and services, including education programs…We do quite a bit of that, actually, in Genesee County. We have four monthly caregiver support groups," she said. "We offer a few respite programs. We have an 800 number. It's a 24/7 helpline. We're just here to help anyone – caregivers, people living with illness, people living with Alzheimer's disease and/or other forms of dementia.
not Jerry Nagel accepted on behalf of his son, Toby Nagel, who founded The Bridge Addiction Recovery Incorporated, a house in Batavia that provides temporary housing for up to five people.
"It was his idea to have a home for drug addicts who went through a six-week program instead of going back to their old neighborhoods," Jerry Nagel said.
not Batavia City School District social worker Julie Wasilewski said she was truly grateful for Thursday night's event. Wasilewski said she coordinates Community Closet, which is part of the Community Schools program.
"From our humble beginnings, starting in August 2020, we have since made over 5,500 donations to children," she said. "This year alone, 325 families have come to the Family Community Engagement Center."
not Jan Beglinger accepted the award on behalf of Cornell Cooperative Extension Genesee County, Community Action of Orleans & Genesee Executive Director Renee Hungerford accepted for her organization, Diane Sia, Director of Development, accepted for Crossroads House; and Kelly Geer of Genesee Cancer Assistance accepted on behalf of that organization.
BBPWC President Shannon Plath had the opportunity to present the Woman of the Year award to her mother, Donna West. Plath said the club votes for a woman "who excels for the year, goes beyond expectations".
West, a BBPWC board member, said she was honored to receive the award and to work with so many distinguished women. "Working with them and just being able to serve and do what we do, being able to give out the service awards and these scholarships is so rewarding," she said. "I loved it, not only working with them, but many of them have become close friends on the outside. Thank you very much.
Hume said the BBPW's mission is to provide student community service scholarships and service awards to various organizations in the Genesee County area. The non-profit club was established in 1921.
Not all scholarship recipients were able to attend Thursday evening's banquet. Those who were there introduced themselves and talked about where they planned to study after graduation. The scholarship recipients are:
not Shawn Calmes, Alexander Central School District;
not Jenna Gilbert, Oakfield-Alabama, is going to SUNY Brockport to study nursing;
not Homeschooled Alexandra Hackett goes to Canisius College to study pre-law;
not Grace Hunn, Byron-Bergen, Virginia Tech, will specialize in national security and foreign affairs;
not Imogen Plitt, Alexander;
not Kelsey Schlagenhauf, Oakfield-Alabama, Hilbert College to study criminal justice and pre-law;
not Courtney Schum, Alexander; Matthew Smith, Batavia; Nazareth College to study physiotherapy;
not Kylie Tatarka, Batavia, Rochester Institute of Technology to study environmental science;
not Natalie Whitmore, Alexander, Genesee Community College to study health and nursing.