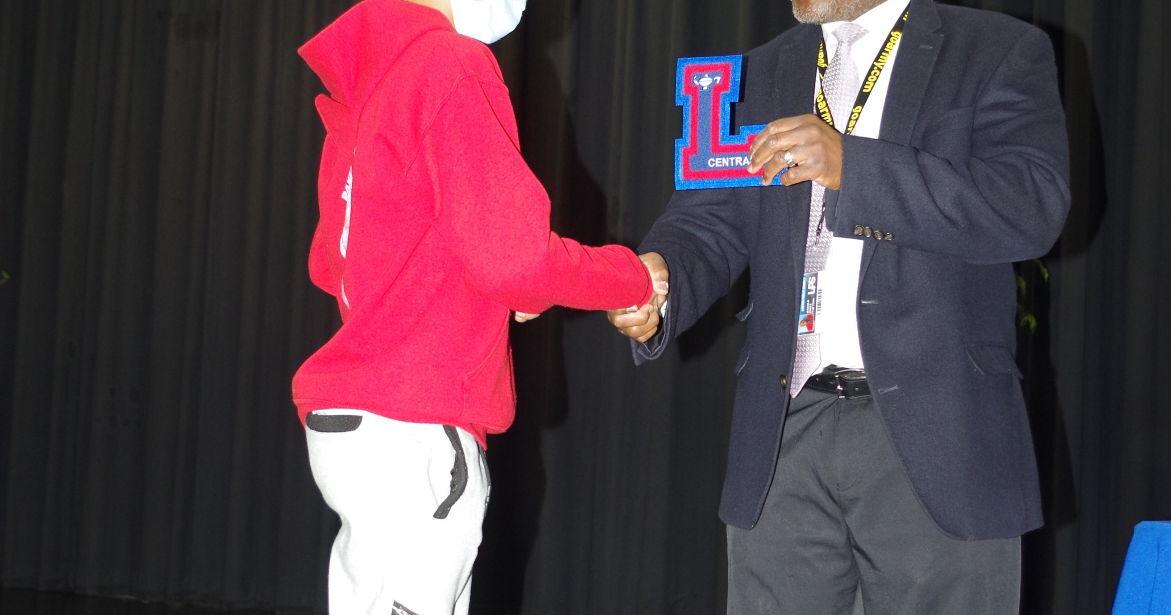 Central Middle School Student Receives Academic Letters | Community News
Students at Central Middle School received academic letters and bars on Thursday.
Academic letters are awarded like sports letters, and subsequent winners earn bars to place on their letters.
To receive a letter or bar at the college level, a student must have a 4.0 grade point average for the first semester of their sixth year, a 3.7 GPA for three semesters through seventh year, or a 3.5 GPA for five semesters through eighth grade.
One asterisk matches one letter, two asterisks match one letter and one bar, and three asterisks match one letter and two bars.
***Amos, Austin, *Chavez, Xander, ***Hecker, Xavier, **Higgins, Kaiden.
***Amos, Austin, **Barnes, Andrew, *Burton, Keshaun, *Chavez, Alex, **Doan, Skyler, *Glasco, Logan, ***Hecker, Xavier, **Higgins, Kaiden, *Jett, Timothy, *Lewis, Kaleb, *Martinez, Anaye, **Ortega, Kaelo, *Pena Iglesias, Jehiel, *Selby, Aaden, *Skilling, Koite, *Smith, Jax, *Stamper, Carsen, *Toles Swift, Noah.
*Asencio, Roman, *Calvo, Ashley, *Cradic, Valérie, *Craig, Kolton, *Crouch, Jacey, *Dillard, Israel, *Ernst, Savannah, *Foster, Raegan, *François, Angel, *Gilfeten, Cloey, *Henson, Hayden, *Martinez Contreras, Camila, *McLinden, James, *Miesner, Emma, ​​*Moctezuma-Roldan, Xitlali, *Navarrete Sostre, Sharon, *Riley, Landon, *Rogers, Isaiah, *Rutledge, Evan , *Schnell, Logan, *Simerson, Corbin, *Thomas, Brody, *Urquizo Sarmiento, Andres, *Warner, Mila, *Webb, Nathan, *Zorie-Ricardo, Anthony.
*Ainsworth, Trujillo, *Alvarado, Alisson, *Anderson, Jaede, *Bondurant, Emilee, *Bradley, Mykaela, **Colburn, Colin, **Colburn, Colton, **Cossio, Erick, *Gandhi, Avani, *Gerber , Lisa, *Harris, Kenna, **Hebisen, Tristan, *Hermosillo, Samantha, *Hernandez, Jude, *Hobbs, Ocean, *Houseman, Kaydance, **Hyatte, Kaylin, *Hyland, Raymond, *Johnson, Alaina, *Johnson, Jacob, *Jones, Tyliyauna, **Kennybrew, Brianna, **Lee, Joanna, *Lineberry, Damion, *Long, Jeremiah, *Luellman, Avory, *Kalili-Liusa, Amanda, *Martinez, Jonathan, * McCormack, Charllette, *Mendez, Morgan, *Nielsen, Jaydin, *Nuth, Jessica, **O Hara, Dylan, *Pennington, Harleigh, *Perez, Abraham, **Pickens, Kamari, **Quavehema, Kailey, *Rivera , Justin, *Rivera Calo, Yanelis, *Rosales, Bobby, **Simpson, Alonzo, *Spencer, Noah, *Swift, Corbyn, *Uplinger, Bailee, *Urquizo, Sophia, *Whitehead, Danajah, *Williams, Jayden Ashton , *Williams, Remy, **Wood, Christinia, *Woodall, Kaylee.
***Alexander, Trenity, *Beadle, Liam, *Bennington, Landen, *Bernal, Chelsie Louraine, *Brand, Mikayla, **Brant, Autumn, ***Brooks, Kirra, ***Browne, Connor, *Capistrano , Ataria, ***Carney, Darren, *Carrillo, Payton, *Carrion, Mya, *Casterline, Emily, *Chindaratana, Alexander, *Cortez, Jade Hayden, *Culp, Shane, *Davis, Ahmari, ***Downey , William, *Fields, Teyanna, ***Finley, Rayelle, *Fleming, Naliya, **Frazier, Marlee, *Gandhi, Riva, *Harris, Samaiya, ***Hayes, Nehemiah, ***Hernandez, Aioki, *Herrera, Haeli, *Hisaiah, Xavier, *Hougabook, Ranaya, *Hurt, Leighroni, *Jones, Adrianna, ***Lee, Lauren, **Lewis, Josey, *Linville, Makenzy, *Long, Joshua, ** Martinez Contreras, Renatta, *McKenzie, Conner, ***McKinney, Jacob, *Melton Wiley, Jillian, *Nix, Aiden, *Parker, Cassie, ***Pennington, Nathaniel, ***Persons, Anthony, *Peterson, Sophie, *Rabaino, Michelle, *Riley, Donovan, ***Roberts, Mathew, *Rodgers, Jazmin, *Rodriguez, IIana, **Samuels, Tamia, *Santee, Alyssa, *Saucedo, Antonio, *Sch ul uh, Hailey, ***Sosa, Annabella, *Smith Browders, Rian, *Sterling, Landon, ***Toscano, Colten, *Uplinger, Hannah, ***Uwadiae, Lisa, *Wharton, Sesalie, **Wilkes , D'Mari, **Willequer, Austin, *Wyatt, KeyLynn, ***Zorio-Ricardo, Alyna.