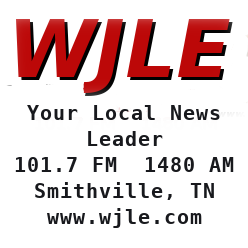 DCHS Student, Teacher and Parents of the Month Award
December 4, 2021
By: Dwayne Page
DeKalb County High School continued its monthly celebration of recognizing a teacher, student and parent or guardian of the month on Friday.
Each received a certificate from the school and a gift card for a meal from the FZ Webb & Sons Pharmacy, gifts and the soda fountain. A different restaurant will offer each month a meal gift card to the winners.
DCHS English and Visual Arts Professor Stephanie Turner was chosen as Teacher of the Month, while Joanie Campbell, Senior, is Student of the Month, voted on by teachers, faculty and staff. Parents of the Month are Chris and Holly Moore, and this honor was based on a winning essay written by their daughter Sadie.
"My essay was about how my parents deserve to be parent of the month because of everything they do for us," Sadie said. "They always go out of their way to do things for us and always bless us with the things we need or want."
Chris Moore is the minister for Church of God in Smithville, where he pastored for six years while working for the school system. Holly is a teaching assistant at DeKalb County High School.
"Sadie did an amazing job with her essay," said Thomas Cagle, deputy director of DCHS. "She explained the many ways they help her achieve excellence in school and in life. It really resonated with me this month. I take my time to read all the essays to choose from, but his really focused on what his parents do to be excellent in school in DeKalb County and outside of school.
Turner said she was thrilled to be named teacher of the month.
"I'm really honored and really happy," Turner said. "I teach senior English and the visual arts, and this is my sixth grade education."
Cagle said Turner was DeKalb through and through, having graduated from DCHS, the same school his parents graduated from.
"Ms. Turner is a fantastic teacher," Cagle explained. "She does a lot for us here at school. This month she actually helped design one of my projects, our 'recognition trees' here. in high school. She designed the trees and put them all together, and she did an amazing job. It was a lot of work for her and her art classes. I couldn't be more grateful to her for her contribution to us here in high school. "
Campbell, student of the month, says music is her favorite study and hopes to someday become a professional artist.
"I am very honored to receive this award," said Campbell. "I didn't feel like I deserved something like this, but my teachers showed me that I deserved it. I guess what I love to study the most is music and aspire to be a musician or a singer. Campbell plays the piano and the guitar.
Assistant Principal Cagle said Joanie earned the Student of the Month honor. "She was appointed by one of our teachers. She captivated everyone here at school. She is an excellent student and one of our stars in the choir with Mr. Gulley. She's a fantastic singer and she just can't praise her enough. Every day, she is one of those children who arrive with a smile on their face, who say "Hello" and who have many qualities that we, teachers and administrators, look for in our children. "
"These awards are a way for us to recognize students who are exemplary each month. It won't always be for your straight "A" student. It is for those who strive to improve DeKalb County every month. Each teacher can nominate a student, and all teachers vote for the nominated student. Teachers are elected by the administration. Parent of the month pricing is determined by student essays. Students can write an essay each month and nominate their parent for a chance to win. In the essays, students can highlight things parents do in their lives outside of school that we may not be aware of, "Cagle said.