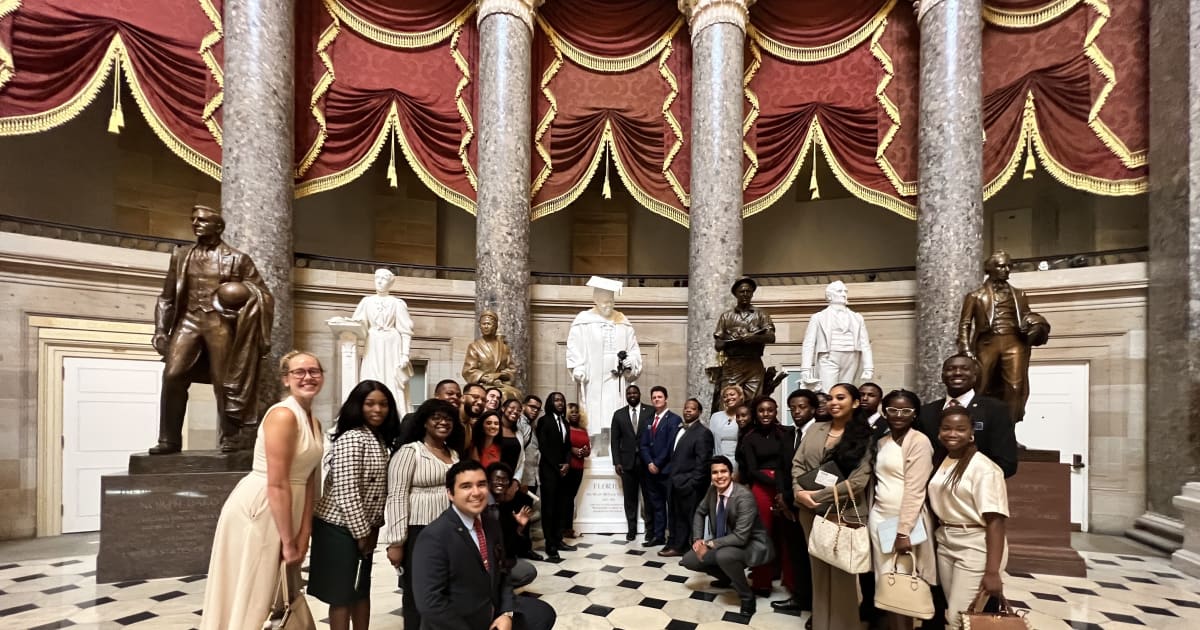 Florida College Student Coalition Marks Historic Event at US Capitol | FIU News
By Eric Feldman
On July 13, Mary McLeod Bethune became the first black American to appear in Statuary Hall at the United States Capitol, representing Florida. On the day of the unveiling, CRF students alongside students from Bethune-Cookman University, Florida Agricultural & Mechanical University, and the University of Florida had the opportunity to view the statue in person in the part of the State Summit on Equity in Education held at the CRF in CC.
"Mary McLeod Bethune was the epitome of strength, determination and fighting for what you believe in, while building relationships along the way," said Rhobie Toussaint, a rising junior at CRF. "It became clear to me that I, too, wanted to embody those qualities as a leader."
The first day provided an opportunity to experience the historic day, including a tour of the Capitol Building provided by Representatives Byron Donalds (FL-19) and Frederica Wilson (FL-24), as well as attending the Symposium of the US Capitol Historical Society on Bethune. life, where Reps. James Clyburn (SC-6) and Kathy Castor (FL-14), among other speakers, honored her legacy, which included Bethune founding the National Council of Negro Women as president of the National Association of women of color among other organizations and as an advisor to President Franklin Roosevelt.
The second day of the summit led students through discussions on education policy and workshops on how to effectively communicate policy issues. Panelists included Charlyn Stanberry, National Association of Broadcasters Vice President for Government Relations and CRF College of Law alumnus; FAMU Director of Government Relations, Danielle McBeth; Vice President of Higher Education Policy for the Education Trust Wil Del Pilaras; and lobbyists from various technology companies and companies representing education systems.
"Dr. Bethune's legacy as a civil rights leader places a strong emphasis on education," said Eric Feldman, associate director of CRF in DC. "The most fitting way to honor him was to convene students from across the state, including the university she founded, to play their own role as student advocates for education."
Finally, the summit concluded with a "policy hack" session, where students created policy goals and presentations at the local, state, and federal levels to increase equity in education and facilitate access to higher education and opportunities for low-income students and/or underrepresented communities.
"Political hacking has been particularly powerful because we've been able to use our creativity to come up with solutions to the issues people are facing in our communities," Toussaint said.
Now that the summit is over, the universities and their student leaders will continue to collaborate, including hosting events on respective campuses about public service careers and supporting policy proposals through the Florida Student Association.
---
CRF in Washington, DC, opening a bold new location this fall, is an integrated advocacy approach to increasing CRF's national reputation and federal support for CRF's preeminent and emerging programs, faculty, and students. The CRF team in DC works with academic units to provide learning experiences and support the placement of students and alumni in internships and permanent employment. For more information on becoming an intern in Washington, DC, email Eric Feldman at [email protected]