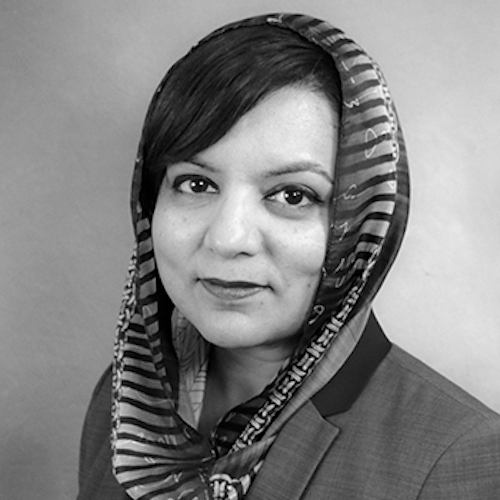 Guest speaker Sobia Khan says academic success begins with meeting individual student needs
Equality and justice are not the same thing. According to guest speaker Sobia Khan, Dean of Academic Success at San Antonio College, equality ignores the individual needs of students, while justice recognizes them and helps uplift communities in need.
On October 8, Khan spoke with students and faculty at De Anza in an online meeting on how community colleges can help students on their educational journey. Friday's event was the most recent of the Department of Social and Human Sciences MOMENTUM series.
Khan's educational journey began as an international student where she was first struck by the diversity of her campus and said she immediately needed to confront her internal prejudices against different racial groups.
"I had preconceptions about who an African American person is, who is an Asian person and what a white person looks like," Khan said. "The preconceived notions and stereotypes were based on popular media, stories passed down from these unique cases, really ignoring the day-to-day life of most communities."
Khan's journey continued at Richland Community College, where she said she began to dismantle these preconceptions. She fell in love with the community college climate and decided to pursue a career helping students find their place in studies.
In doing so, she realized that there was racial and economic disparities that have led black, native and colored students to struggle in academia. While low-income students had the same resources as their wealthy peers, they were less likely to be successful.
"We can provide the same opportunities for all students, but that doesn't mean we allow all students, even employees, to be successful because each of our needs is different," Khan said.
Moderator Elvin T. Ramos, dean of social and human sciences at De Anza College, said he was concerned about the negative impact of the COVID-19 pandemic on BIPOC students.
"The pandemic has changed the priority for a lot of people, especially people of color, when it comes to what it's going to be," Ramos said. "Am I taking care of my family or going to school?" This is the choice. And for me, it really comes down to family.
But with the country's gradual recovery, thanks to the emergence of several vaccines, Albert Pearsall III, assistant professor at the District of Columbia Community College, said governments should focus on emphasizing the importance of the disease. university for disadvantaged communities. He said the financial future of these students depended on it
"I am concerned that some of these young people are lost forever and that we cannot get them back," said Pearsall. "And I don't know how we can do it, but I'm saddened because I think some of them can end up in dead end jobs or the kind of careers that leads them to not be very happy. "
Khan said personalization could be the key to attracting students again.
"Maybe we need to do different kinds of creative deals," Khan said. "Choose when you can come in and when you can leave. Choose the modality, maybe you can choose the instructor, all kinds of customizations need to take place.
While it may be difficult to get some students back into education after such a dramatic start, Khan also said that for current students, schools need to focus on justice, which means meeting the basic needs of communities. , such as food and health care. Khan noted that some of these changes have already started at some colleges.
"I'm really encouraged to see the movement in community colleges to provide full support, from food to health care and clothing," Khan said. "We at San Antonio College have an advocacy center that provides tips and snacks. You don't even have to go in and hand out your student ID, or any other ID, to grab a snack. It is open access.
Ramos agreed that with the physical needs of the students taken care of so that they can focus more on their education, which could help pave the way for more stable careers. He concluded by strengthening the power of community colleges.
"I sincerely believe that community colleges are the perfect place to truly meet the needs of those closest to neighboring communities," Ramos said. "Asking the community, asking the student body to participate and rise up, what does it really need is very valuable to the work or the longevity of any institution."