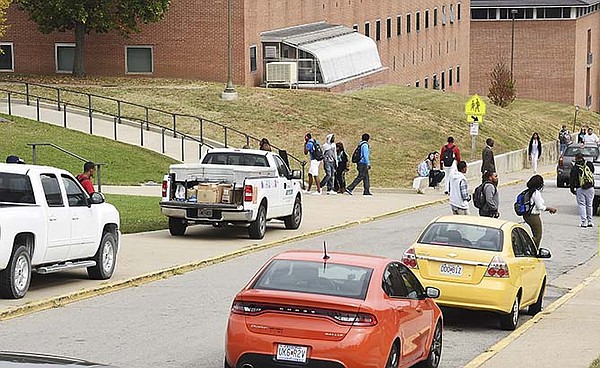 Lincoln University adds new academic minors and updates academic policies
Lincoln University adds two new academic minors and implements revamped policies regarding online teaching and academic probation.
The historically black university will begin offering 18-hour minors in communications and project management next spring semester.
LU's board of curators approved the two minors on Thursday at its first meeting since the start of the fall semester. He also approved new language to reduce the university's academic probation policy and add new requirements for professors who teach classes online.
Minors do not require any additional faculty, and the Project Management Minor will be offered through the Project Management Institute, a non-profit online professional development organization.
"It gives our students more marketable skills," said curator Stacia Bradley Brown, chair of the board's academic affairs committee. "It is also an opportunity for students and non-traditional students to attend Lincoln University to acquire those 18 hours and then enter the job market because you can work in the field of project management without diploma."
As the university seeks to expand its online offerings, it is adding a policy to ensure faculty are prepared.
Beginning in fall 2023, faculty teaching blended or fully online courses must complete professional development training on how to teach synchronous and asynchronous virtual courses.
The training is provided by Quality Matters, an online nonprofit that Lincoln has used for at least eight years.
Faculty are required to complete the training every seven years, and the vice president of academic affairs will maintain a list of approved professional development programs. No faculty already teaching online courses will be grandfathered, Brown said.
"With the advent of COVID and more courses being delivered online, it kind of made this policy necessary so that everyone is teaching with the same level of expertise," she said.
"It's also important as we strive to grow our online presence over the next year," added university president John Moseley.
The board approved another policy change to reduce the university's academic suspension period for students with poor academic standing from three years to one year, effective immediately.
Lincoln had previously suspended students for a semester when their GPA fell below a certain threshold the first time, then three years the second time.
"The advantage of a uniform one-year suspension policy is that it is more punitive initially when the student may need more time to reflect and reform, but more lenient later when a student may still be inclined to finish," Bryan Salmons, who chairs the faculty committee where the policy originated, wrote in a recommendation provided to the board.
Lincoln's new policy is to notify students that they are on academic probation if their cumulative GPA falls below 2.0, which limits the number of credit hours the student can take to 13.
Students on academic probation also receive additional academic counseling and counseling with the goal of raising their GPA to at least 2.0, which gets them off probation.
Students who do not raise their GPA are suspended for one year and given specific guidelines for readmission.
Readmitted students who again fall below a 2.0 GPA are again suspended for one year.
The university plans to notify students currently on three-year suspension of the policy change as long as they have been away for a year, said Micheal Self, vice president of academic affairs.
See also:
Lincoln University advances campus projects with federal money