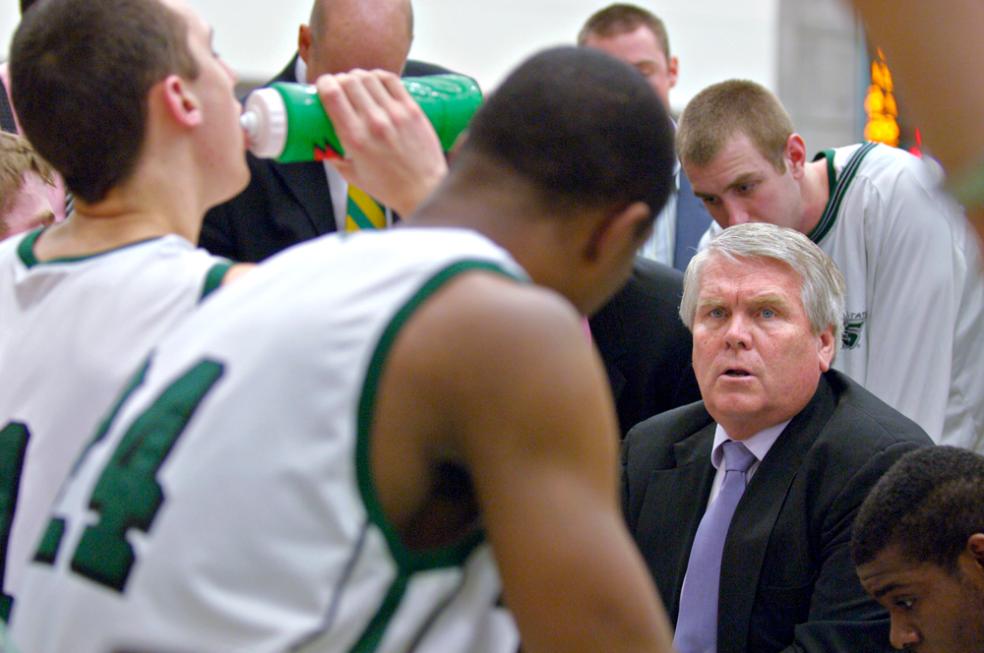 Lumberjack Arena Land Renaming Effort Underway | Humboldt NOW
He was one of the greatest coaches in the history of the University. He made Lumberjack Basketball a perennial powerhouse in NCAA Division II for nearly three decades at the helm of the program. His commitment to the community was legendary. Tom Wood made the men's basketball program what it is today.
To honor the coach who died in 2016 and to support student-athletes, the Cal Poly Humboldt Foundation and a group of community volunteers are working to raise at least $350,000 to rename the field inside Lumberjack Arena "Tom Wood Court". All funds raised will support the men's and women's basketball programs through operational support and scholarships.
So far nearly $300,000 donations and commitments have been increased. The deadline for contribute is Saturday, July 30 for the court to be renamed for the 2022-23 basketball season.
"Tom really cared about those players," says Joyce West. An ardent Lumberjacks basketball fan and major contributor to the Tom Wood Court renaming effort, West has been hosting gamer dinners at her home for more than a decade. "I saw firsthand the benefit of participating in sports at Humboldt and learning how to work in a team.
The name change is a fitting tribute to a coach with a career record of 463-351, all achieved as a head coach at Humboldt. He achieved a home record of 125-19 for games played in the Lumberjack Arena and the arena's predecessor, the Eastern Gymnasium (now Forbes Gym).
Raised in Humboldt County, Wood was a basketball star at South Fork High School in Miranda and later played for UC Davis. His coaching career began at Cal Poly San Luis Obispo, where he earned his Masters in Physical Education. He helped the program win three conference titles, two regional championships and an appearance in the NCAA Division II Final Four.
He built on that success to lead the men's program at Humboldt in 1981. Over the next 29 seasons, he guided the Lumberjacks to 11 NCAA playoff appearances. The 2003-04 season was a banner year for the program. Under Wood's leadership, the program earned its first-ever NCAA Division II West Region title and an appearance in the NCAA Division II Elite Eight. The Jacks finished with a record 28 win program.
He retired in 2010, the same year he was inducted into the Humboldt Hall of Fame. Wood was named Great Northwest Athletic Conference Coach of the Year in 2001-02 and West Region Division II Coach of the Year in 1989-90.
Beyond wins and titles, Wood was determined to help students realize their full potential on and off the court, through his tough love approach.
"Interacting with the players, coaching them and preparing them has been the most rewarding part of this job," Wood said when he announced his retirement in 2010. "It continues to see them pursue their own successes in life and to think their experience here might have something to do with it."
In one instance, Wood benched a star player for his comeback speech before an important game. The team ended up winning anyway, proving another point. The Lumberjacks were more than just one person — every player is part of a team, says Drew Petersen, the strength and conditioning coach who worked with Wood.
"I thought the student would be bitter, but it wasn't," Petersen recalled. "He said he wouldn't play for any other coach on the planet but Coach Wood."
Jim and Sharon Redd, friends of Wood and major donors to the naming effort, tell the story captured Wood's training philosophy.
"These players had a lot more respect for him," says Jim Redd. "The most important thing was not just to win. It built character and taught players the value of respect.
Sharon Redd says that with financial assistance, future generations of student-athletes can benefit from playing for Humboldt and being part of something special.
"In our experience of getting to know the players, we've seen how much of a difference a scholarship can make," she says. "Students come to Humboldt to graduate from college and then have the chance to do something for a living – opportunities they might not have had without a scholarship."

Honorary Coach Tom Wood by make a donation to support the men's and women's basketball program. Contributions, which are tax deductible and can be paid in one go (larger donations can be pledged over three to five years), can be sent by post or completed online.
For more information, contact Stacie Lyans at the Cal Poly Humboldt Foundation at (707) 826-5200 or [email protected].