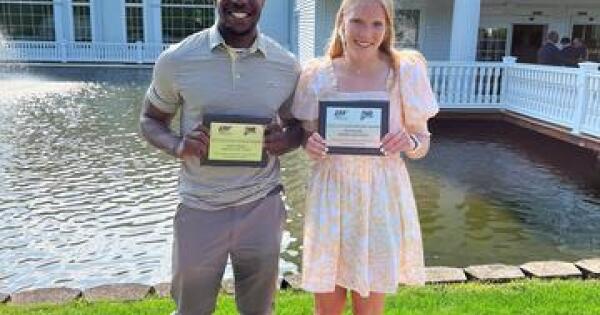 McCarthy and Williams gain college athlete recognition
Posted: Jul 01, 2022 7:00 AM
Newtown High School student-athletes Ally McCarthy and Isaiah Williams were honored at the Aqua Turf Club in Plantsville on May 22 because they were each chosen to receive the 2022 Connecticut Association of Schools Varsity Athlete Award Connecticut Interscholastic Athletic Conference.
They were honored along with 350 other student-athletes from across the state. The banquet "recognizes two high school students from each member high school whose academic and athletic careers have been exemplary, whose personal standards and achievements are a role model for others, and who possess high levels of integrity, self-discipline and courage" .
McCarthy won top honors throughout high school and was on the All South-West Conference varsity team. She was All Conference and All State for indoor track, outdoor track and football. Additionally, she was named All New England Indoor Track. She was junior and senior captain of the track and field and soccer teams.
Williams earned top honors throughout high school and was part of the All SWC Academic Team. He also won the All Colonial division on the basketball court. He was captain of the basketball team and played for the NHS lacrosse team.
Isaiah Williams and Ally McCarthy were Newtown's Scholar Athlete Award recipients.