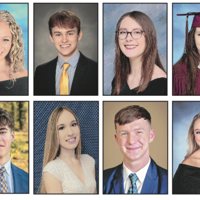 Meet the Roan Scholars Class of 2026 | Sunday stories
JOHNSON CITY — Five students from the greater Tri-Cities area are among those selected by the Roan Scholars Leadership Program for the new Roan Class of 2026. The students will join 24 returning Roan Scholars at East Tennessee State University this fall in under the prestigious four-year scholarship programme.
"This year, we've expanded eligibility beyond school applicants to allow area high school students to apply directly for the Roan," Roan Scholars Director Scott Jeffress said in a press release. "There was great interest in this opportunity, and we interviewed a record number of students during our regional interviews and Roan Finalist Days."
The local students selected for the program are Cooper Johnson from West Ridge, Kyah Powers from Dobyns-Bennett, Elijah Smith from Elizabethton, Braydon White from Chuckey-Doak and Natalie White from Twin Springs. They will be joined by Zayda Carver from Mitchell High School, Leah Loveday from Northview Academy and Macy Strader from Grainger.
"We are excited about this new class and look forward to seeing how they will positively impact our campus and region," Jeffress said. "Members of the Roan Class of 2026 have been recognized for their academic, athletic, and extracurricular achievements at the local, state, and national levels. From refereeing recreational youth league games and providing free tennis clinics, to volunteering with a local fire department and hosting a student leadership conference , they serve their communities in countless ways.
He said these eight scholars represent the Roan values ​​of leadership, excellence, and impact and were selected from more than 120 nominees and candidates in 27 counties in northeast Tennessee, southwest Virginia and of western North Carolina.
Meet the new Roan Scholars from the greater Tri-Cities area.
• Cooper Johnson (West Ridge High School, Blountville) is both a member of the All-State Choir (which also sings with its church choir and musical theater program) and an All-Conference basketball team point guard. school ball. He is a student ambassador at West Ridge, participates in various clubs, and is involved in his church.
"I want to grow and network with like-minded people. As I get better, I would like to continue to inspire, encourage and make a difference in my community. I realized the importance of understanding who I lead and how my actions can affect the people around me," Johnson said.
• Kyah Powers (Dobyns-Bennett High School, Kingsport) is an accomplished musician, who has earned all-state honors in band (flute), was part of the National Champion Dobyns-Bennett Marching Band and Symphony of the Mountains Youth Orchestra, and held several key leadership positions within the Highlands Youth Ensemble. She was also a peer tutor and served with her church's youth group on mission trips.
"My joy now comes from serving others and being a catalyst for happiness wherever I can," Powers said. "I want to leave a legacy of compassion and lives changed for the better."
• Elijah Smith (Elizabethton High School, Elizabethton) is a self-described "enthusiastic public servant," who organized a "Vax by the Tracks" event for his community during the COVID-19 pandemic, helped launch and host a podcast on "Doing Good program, offers free tennis clinics for local children and regularly volunteers at a Ministry of Food kitchen. He is also a varsity tennis player at Elizabethton and holds several school swimming records.
"Elijah is a team player," said athletic director Forrest Holt. "(He) impresses me the most with his ability to network with adults, community leaders and professionals. He puts himself forward and doesn't care to step out of (his) comfort zone. Looking to the next four years, Smith said, "I feel ready to fit in and contribute to an even greater community during my college career, using the skills of (my) transition (from home school to high school) to better adapt to the next ones in life.
• Braydon white (Chuckey-Doak High School, Greeneville) used her strong work ethic and desire to serve others to mark her high school years. "I'm the kind of person that once I start something, I'm going to see it through," White said. "I make it a point to help and be helpful in any way I can."
White is a member of the National Honor Society of Chuckey-Doak, where he also played football and helps lead service-learning efforts. In the community, he attended the Chick-Fil-A Leadership Academy for two years, worked at Food City since he was 14, and volunteered with the local fire department, helping plan and lead various service projects.
• Natalie White (Twin Springs High School, Nickelsville, Virginia) is captain of the Twin Springs High School forensic team and is a state champion of public speaking. She is also captain of the college cheerleading team, editor of the school yearbook, and earned a black belt in taekwondo and competed in national championships. Goal-oriented and compassionate, she strives to lead with dignity and grace.
"I really feel for those who are struggling or suffering," White said. "And those emotions inspire me and motivate me to do good. My compassion for others is a quality that I am extremely grateful for, because it helps me connect with others and shows them that I care. .
The Roan Scholarship provides four years of unique out-of-class experiences and opportunities designed to challenge and inspire students to grow and develop as leaders. The scholarship also includes a financial award for tuition and fees, room and board, and books.
"It is extremely gratifying to see the remarkable growth and development of the Roan Scholars leadership program over the past two decades. This new class of Roan Scholars will eventually join the ranks of our more than 80 alumni who lead and serve in our region and around the world," said Roan Founder Louis H. Gump. "In what has been another challenging year, we are especially grateful to all of our partners in this Roan process."
He said it is "high schools who identify these exceptional students, our committee members and staff who dedicate many hours to interviewing and selecting students, and our supporters who generate the resources that support the program. Our extended Roan family is the reason for our success. None of this would be possible without them. »
The Roan, which is funded primarily by private donations, was established by Louis H. Gump in 1997. The first class of Roan Scholars entered in 2000. For more information, contact the Roan office at 423-439-7677 , email [email protected] or visit the Roan website at RoanScholars.org.
Learn more about the eight online Roan Scholars at JohnsonCityPress.com