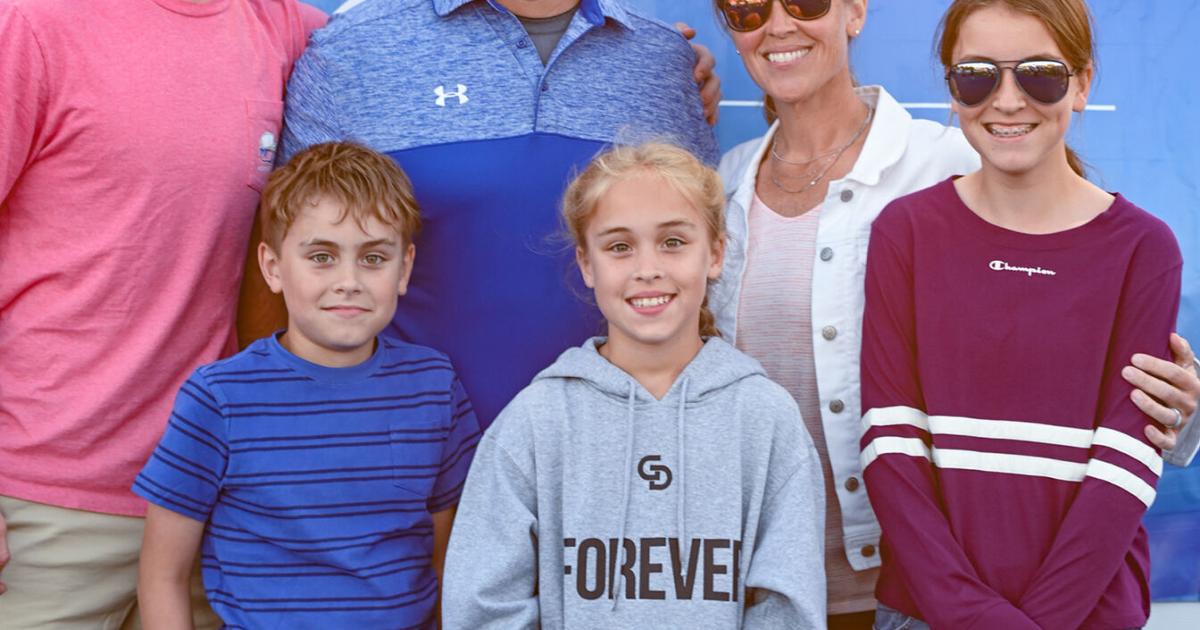 OCSD Athlete-Scholars Receive Recognition and Scholarships Alongside Coach of the Year Bond and Fan of the Year Norfleet | Education
OSWEGO – The Oswego City School District and the Oswego Buc Boosters club recently recognized the varsity athletes of the class of 2022 during an evening outdoor ceremony on the grass field of the high school athletic stadium.
Sean Callen, President of the Buc Boosters, welcomed the student athletes and their families with some opening remarks, noting how the COVID-19 pandemic has put a damper on students' ability to participate in the sports they love. Callen praised the seniors who stuck with their sport until the end of their high school career.
Paul Muench, director of educational programs at Daneli Partners and former social studies teacher and coach at Oswego High School, was the ceremonial guest speaker for the evening. Muench boasts a storied resume as a junior women's varsity basketball coach at Oswego High School from 1989-1997, as well as 1999-2000. Muench then transferred to a varsity football coaching position from 1993 to 1999. Muench then spent just under 22 years in the Fayetteville-Manlius School District as a modified and freshman baseball coach and college football coach before becoming a presenter, speaker and leadership coach with Danieli Partners.
"The best educational times happen in these fields, courts and gymnasiums…Underclassmen, you're gonna be here soon. You're next in line for the scary ride at the fair. You're close to the moment 'Oh my God, we're seniors," joked Muench. "It's a special class. You've been through COVID and you've heard this all the time – like you have something to compare.
During his speech, Muench noted that he fell in love with education as much as athletics. "You are people of action. You walked into the stands and entered the game. So many people watch life instead of living it – they become spectators of their own life. And when I look at you and see those friendships, I know you're getting ready to move on and leave the house," Muench said. "You can't make new old friends. There is a bond between you that will last a lifetime.
Muench stressed the importance of balancing new friendships after high school with pre-established friendships with classmates on and off the field, noting that the trials and tribulations of high school athletics don't just apply to the world of athletics.
"We need to remember the past rather than live it," Muench noted. "Take the lessons you've learned in these areas and apply them to other areas of your life."
The Coach of the Year award went to Oswego Middle School Modified PE teacher and football coach Pat Bond, while the Fan of the Year award went to Kristin Norfleet, mother of senior Oswego high school baseball and college football athlete Preston Norfleet. teams.
Norfleet has been praised for her dedication to watching her son's teams play, despite the multiple challenges of a lingering illness. Bond was recently named Middle School Physical Education Teacher of the Year by the New York State Association for Health, Physical Education, Recreation and Dance Central North Zone in 2019.
Cynthia Lauzon, the Oswego City School District's newest athletic director, also made an appearance at the ceremony.
"Keep having fun, keep enjoying what you're doing, keep learning – and know that you didn't get there on your own. You've had a lot of people supporting you along the way," Lauzon said. "For me, that would have been my siblings, because I'm 12."
"I am happy to be here, excited to be here, and I would like to wish you all good luck. Keep learning, keep having fun, and keep setting goals and challenging yourself. Please come back to visit and support your fellow Buccaneers," Lauzon said.
The Oswego High School Buc Boosters would like to thank board members Sean Callen, Susan DiBlasi, Cory Brosch and Eben Norfleet as well as Julie Chetney, Joshua Lerch, Matt Seubert, Jill O'Gorman, Penny Foster-Pratt, Christene Rolfe, Henry Giberson and Kellie Donovan. They also thank student council representatives Marcus Baker, Duncan Baker, Alaina DiBlasi, Isabella Koproski, Owen Seubert, Mallory Upcraft, Allison VanBrocklin, and Tatum Winchek.