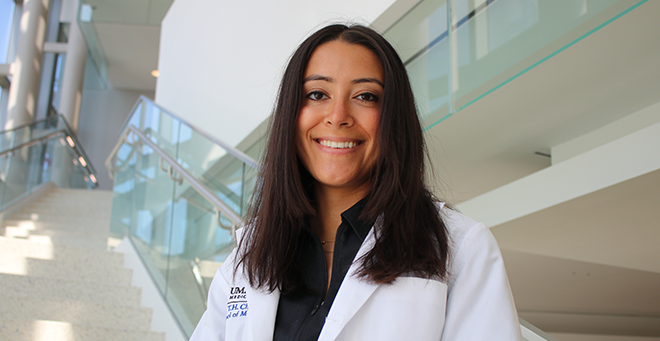 Operation House Call connects medical students and families with special needs for compassionate care lessons
First-year TH Chan School of Medicine students at UMass Chan Medical School will develop skills to improve compassionate care for people with intellectual and developmental disabilities this fall, thanks to the perseverance of the third-year medical student Naaz Daneshvar year.
Operation House Call is a course offered by The Arc of Massachusetts in which families serve as teachers to prepare students to interact with patients with intellectual and developmental disabilities. A highlight of the course is when students visit participating families to observe and understand how family members and loved ones with special needs communicate and connect. Experiences help students see their patients as people first, rather than a diagnosis.
Chan School of Medicine students have the opportunity to design non-credit enrichment electives. Daneshvar considered offering Operation House Call as an optional enrichment course, but realized the importance of training.
"The more I read into it, the more I realized that Operation House Call shouldn't really be an option," Daneshvar said. "No matter what specialty you go into, no matter what healthcare field you go into, most of us are going to encounter a child or adult with special needs."
The problem is personal for Daneshvar, whose cousin, Amir, has an intellectual and developmental disability.
"It has a number of medical complexities," she said. "He's having seizures. Daily life is sometimes stressful. It can be hard to know what's bothering him when he's not feeling well or after a hard day at his day schedule.
Daneshvar said she learned to communicate with Amir and it made all the difference.
"I grew up with my cousin, so I don't consider him any different. It's easy for me to take more time to listen to him because I know that once I figure out what's bothering him and help him, his positive energy is contagious." she declared. "I think everyone will find the reward that comes after creative communication skills and a little extra patience worth it."
After leading a pilot class last year supported by the Massachusetts Arc, Daneshvar secured funding to bring Operation House Call to Chan School of Medicine. However, she also wanted to work to ensure the training is required of all medical students in Massachusetts and testified before the state legislature to that effect last fall. She wrote a letter to the editor of The Boston Globe on pending legislation in July.
"Integrating Operation House Call into the curriculum is due to Naaz's tenacity and deep belief that caring for intellectually and developmentally diverse patients is an essential medical skill," said Patricia Seymour. , MD'07, Associate Professor of Family Medicine and Community Health and Assistant Dean of the Clinical Studies Program in the Office of Undergraduate Medical Education.
Maura Sullivan, director of government affairs and health policy for The Arc of Massachusetts and mother of two autistic children, applauded Daneshvar's efforts.
"This program is so important to me as a health care decision maker and parent because it encourages more young doctors to be champions for people with disabilities," Sullivan said. "They become more confident and more willing to treat patients throughout their lives. They begin to see the strength of the disabled person and the resilience of the supporting family.
Stories related to UMass Chan News:
First day banner for TH Chan School of Medicine Class of 2026