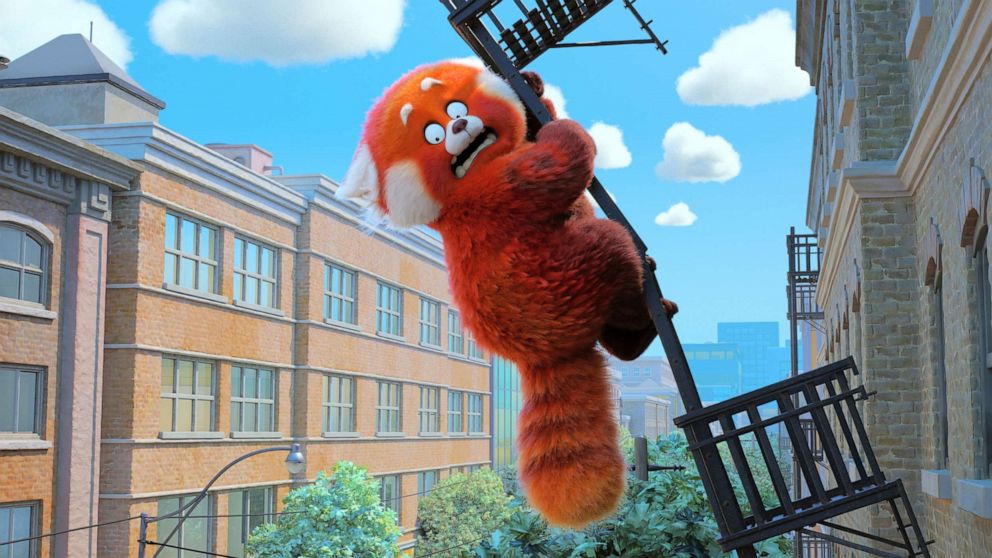 Review: 'Turning Red' is an exciting ride fueled by the uplifting message of being yourself
"Turning Red" is now streaming only on Disney+.
Pixar has tackled many tricky topics through its cutting edge animation – how sadness is necessary to experience joy in "Inside Out", how love can survive after death in "Coco", how greed affects the humanity in "Wall-E."
But that wasn't until Pixar broached the subject of female puberty in the refreshingly wise and wonderful film "Turning Red," which airs only on Disney+.
Chinese-Canadian filmmaker Domee Shi (who directed the Oscar-winning short 'Bao') focuses on a 13-year-old girl who looked just like her 20 years ago. She's Meilin Lee (voiced by a beautiful and feisty Rosalie Chiang), an eighth-grader who plays the flute and finds herself rebelling against the strict rules of her helicopter mother, Ming (a remarkable Sandra Oh).
And when Meilin goes crazy, letting her excitement fly about everything from boy bands and the store clerk she runs over to her hormonal urge to break the chains, she transforms into a giant red panda, a metaphor comedic and cunning for the roller coaster of messy adolescence.
The repercussions of Meilin's early period are handled so well within the confines of the film's PG that parents need not worry. As Meilin learns, she only needs to calm down to become the ideal student her parents raised with so much love. The big question is: Does Meilin really want to comply?
Set in Toronto's Chinatown in 2002, "Turning Red" builds a Meilin world rooted in Chinese culture by its parents, Ming and Jin (Orion Lee), who operate a temple whose symbol is also a red panda. Yet, like most teenagers, Meilin is mostly influenced by her peer group.
Her various best friends — Miriam (Ava Morse), Priya (Maitreyi Ramakrishnan), and Abby (Hyein Park) — aren't afraid of her panda alter ego. In fact, they devise a plan to sell tickets to watch Meilin transform so they can earn money to see their boy band idols 4*TOWN in concert.
It's a kick to learn that the group's hit single, "Nobody Like U", is written by the talented Billie Eilish and her brother Finneas O'Connell with the kind of catchy ear verse that 'N Sync and the Backstreet Boys would surely have envied in return. during the day.
Ming forbids his daughter to attend the concert. Why? "You're going to be whipped into a frenzy and a panda all over the place," Mom said. May be. But "Turning Red" is all about Meilin letting her adorable spirit animal take a walk on the wild side. And when her parents promise to perform a ritual that will lock her panda identity away for good, Meilin isn't so sure.
Would you like to be? Adulthood can be fraught with clumsy impulses, but there is no growth without it. The concert itself is a preparation for a war between tradition and the exhilarating freedom of living in the moment. Who can't identify with that? Even mom puts her panda.
Does "Turning Red" fall short of Pixar's peak ("The Incredibles," the "Toy Story" franchise) in taking its teachable moments too lightly? Barely. As Meilin tells Ming, "My panda, my choice, mom."
Unleash your panda and make 'Turning Red' your choice for a fun and exciting ride fueled by the uplifting message of being yourself. It's kind of a miracle.
Disney is the parent company of ABC News.