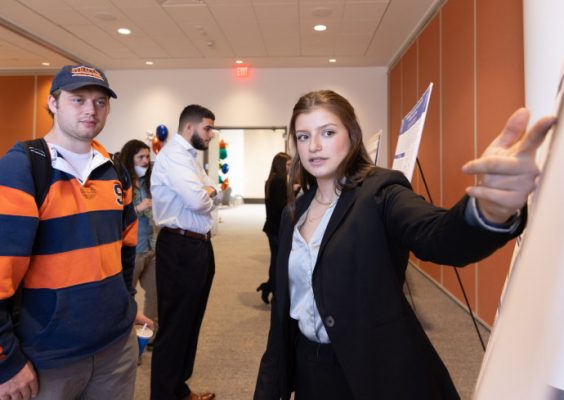 SOURCE Symposium Features Summer Undergraduate Research, Scholarly, and Creative Projects
More than 100 undergraduate students who have engaged in research and scholarly and creative pursuits over the summer will present their projects and discoveries at a showcase hosted virtually and on campus next week. The an event celebrates the culmination of undergraduate students' summer efforts and the range of topics they examined through Syracuse Office of Undergraduate Research and Creative Engagement (SOURCE) funding for the program, in concert with other research and creation programs on campus.
The campus community is invited to attend two showcase events. Ten students present their work virtually in two sessions on Wednesday, August 10, from 2 p.m. to 4 p.m. The participation links can be referenced on the SOURCE Program Information Page. Another 101 students will present in a poster session on Thursday, August 11 from 10 a.m. to noon in the Panasci Lounge at Schine Student Center. A celebratory picnic follows at the Huntington Beard Crouse patio.
Many partner campuses
The students included participants in the SOURCE initiatives as well as other programs, including the Louis Stokes Alliance for Minority Participation program; Research experience in chemistry, engineering, iSchool and biomaterials for undergraduate programs; Renée Crown University honors program; Students supported by Women in Science and Engineering; the McNair Scholars Program; the SUNY-Upstate Summer Undergraduate Research Fellowship (SURF) program; and others.
Most of the presenters are undergraduate students at Syracuse University, although guest students from other colleges who have worked with Syracuse University or SUNY-Upstate faculty across multiple programs will also share their work. summer, explains Kate Hanson, Director of SOURCE. More than 200 students from all campus programs were active in research this summer, working both in person and remotely, she says. This is a significant level of growth in summer research activity since the first SOURCE summer in 2019 with approximately 100 participants.
The SOURCE initiative began after Syracuse University announced a commitment of $1 million per year in Invest Syracuse funds to support a new undergraduate research center to strengthen the University's position as a preeminent and inclusive student-focused research institution.
Some of the topics undergraduates have been looking at this summer include:
Access to wellness facilities for women
Vitamin D supplementation to reduce neurodevelopmental phenotypes of Rett syndrome
Stimuli-responsive biomaterials for wound healing
Assessing Water Quality Data for Cemeteries in the Finger Lakes Watershed
Countering Misinformation for Syracuse Residents on the South Side
The role of nanoparticles and organic acids in northern forest soils
Persuasion in audio social media
The role of fish oil supplements on paternal obesity
Museums and intangible cultural heritage
"This event is an opportunity for the University to showcase the incredible and innovative work that students have done this summer with dedicated faculty mentors, and to celebrate the growing community of University-supported summer undergraduate research" , said Hanson. "We hope for continued growth in the number of participants to create more opportunities for students to engage in research, scholarship and creative projects. It is wonderful to see students develop important research and presentation skills and we are grateful to the faculty mentors who guided the students' intellectual and creative growth.
Specific interests of students
Three students who participated in the program this summer exemplify the breadth of topics that undergraduates can tackle based on their personal interests.
Andrea Hoe '23, at the School of Architecture, tested the compressive strength of lunar regolith composites using urea and carbon nanotube additives. Work with the assistant professor of Mechanical and aerospace engineering Yeqing Wang at the College of Engineering and Computer Science, she is developing potential materials for use in building structures on the moon. She plans to take a graduate program in space architecture and work for a space company as an architect or designer of extraterrestrial structures.
The test-fail-test nature of his experiments "was very impactful," Hoe says. "It's very difficult, but I've learned to find solutions to every problem I face. This experience reinforced and validated my interest in getting into the space field in the future.
Alternatively, April Santana's "lab space" in the South Side community of Syracuse, where she has done person-to-person outreach to help shape her examination of the impact of misinformation and tools to fight it. Santana '24, which specializes in magazines, news and digital journalism, works with Assistant Professor Greg Munno at the SI Newhouse School of Public Communications through a grant supported by the Knight Foundation and SOURCE. They investigate how community members receive misinformation.
This is the third time Santana has participated in SOURCE research. As a freshman, she examined how materials developed in the civil rights era portrayed minority groups. In her second project, she undertook a political science examination of alternative social media groups and their impact on the decisions of minority groups to get vaccinated or not.
This year, her work has focused on community journalism, although all three opportunities have been beneficial, she says. "They certainly helped me, first by giving me the opportunity to do research, which I never thought I would do. I always thought it was more for masters or doctorate. students." Santana particularly enjoys the community aspect of her current endeavors, she says. "It helps me with what I want to do — immerse myself in the work of reporting."
Hunter Mirer '23, a double major in biochemistry and neuroscience at the College of Arts and Sciences, has developed a process for staining zebrafish embryos to
examine their spinal cord phenotypes as a professor and chair of the biology department by Kate Lewis laboratory.
Mirer credits the lab environment with helping him recognize and confront his academic weaknesses before entering medical school. He plans to take the MCAT exams this fall. "What I'm mainly learning now is learning how to develop a higher level of understanding in specialist subjects. It showed me that it will take a lot more understanding than I recognized when I first said I wanted to be a pediatric neurosurgeon," he says.
The lab helped him develop his research skills, Mirer says. "I have ADHD, and the way science was taught in high school, it was hard for me to learn. The research lab helped me a lot because it's hands-on and actively working on achieving goals, and I also have the resources of the other professors and students there, which helped me to strengthen my desire to be a doctor and my interest in science.