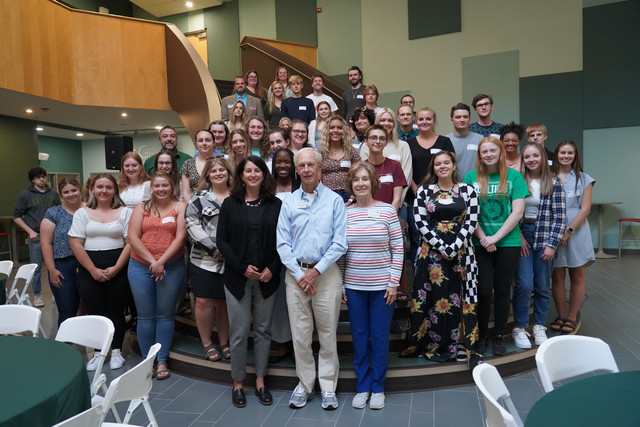 South Thomaston, Frankfort scholars among Worthington winners at Husson
BANGOR – On September 14, Husson hosted an event at the Beardsley Meeting House to honor Worthington Scholarship Foundation scholars attending the university. A native of South Thomaston and a native of Frankfort were among those honorees.
The Foundation has awarded $6.4 million to more than four hundred 2022 graduates from partner public high schools in 11 Maine counties, including Franklin, Hancock, Knox, Lincoln, Oxford, Penobscot, Piscataquis, Sagadahoc, Somerset, Waldo and Washington . With the addition of high schools in Aroostook and Kennebec counties, the Foundation plans to award 800 new scholarships in 2023.
"I feel very privileged to be a Worthington Scholar," said Frankfort student Mikaela Alley, who is enrolled in Husson University's Bachelor of Science in Exercise Science/PhD in Physical Therapy program.
"Listening to the Worthingtons' speeches at the event made me feel like they cared about me and would always have my back," she said in a press release from the company. Husson University.
Dylan Whitamore, a fourth-year student at Husson University in South Thomaston who is studying primary education, agreed.
"Being a Worthington Scholar has helped me a lot and motivated me to be the best student and the best future teacher that I can be. I know the Foundation always has people to talk to if I need anything. They really mean a lot to me and I thank them for helping me to attend this university.
At the event, Beverly and David Worthington spoke to Scholars about their own experiences overcoming obstacles to achieve their educational goals. The Worthingtons also talked about how people were willing to provide help because they were both willing to do what was needed to be successful. Having achieved their educational goals, Beverly and David are now committed to helping students in Maine do the same.
"Worthington scholarships are awarded to students here at Husson who have significant academic potential," said Dr. Robert A. Clark, President of the University. "We deeply appreciate the Worthingtons' efforts to help keep education affordable in our state – an important goal that Husson University, as one of New England's top educational values, enthusiastically shares and supports. ."
Worthington Scholars are selected on the basis of need and merit.
"We also choose our Scholars based on their courage and determination to build a better future for themselves and our belief that individual students can achieve their educational and career goals," said Beverly Worthington. "To help these students, the Foundation provides Worthington Scholars with mentors to guide them through their journey. We're in the scholarship corner every step of the way.
Worthington Scholarships are available to eligible students who recently graduated from Maine high schools on the Foundation's list of "participating colleges." Scholarships are renewable for up to eight semesters, and students can receive up to $17,000 to attend a four-year college or up to $14,250 if beginning their educational journey at a two-year Maine community college and continue at a four-year participating college. .
Lynne Coy-Ogan, EdD, senior vice president of academic affairs and provost of the university, Michael Fox, vice president of enrollment management at Husson, and Julie Bourgoin, executive director of the Worthington Scholarship Foundation, also took the speak at the event.
"This event was Husson's way of saying that we believe in these students and want to support them as they prepare for their degrees," Fox said. "We are confident they can do it." The students at the reception appreciated the opportunity to meet the people who made their scholarships possible.
Thaddeus Fine is a freshman at Husson University's New England School of Communications, pursuing a degree in video production. According to this student from Hampden, becoming a Worthington Scholar is more than just getting money to pay for your education.
"Becoming a Worthington Scholar means I'm part of a community," he said. "There were a lot of different people at the event. We all had different backgrounds and we all came from different places here in Maine. No matter where we come from, we are all working towards the same goal of getting a degree. This is what unites us as a community. It's not just a monetary connection, it's also an emotional connection.
"Through the Worthington Scholarship Foundation, qualified Maine students can pursue a college education without having to take out additional loans to fund their education," said Lynne Coy-Ogan, EdD, senior vice president of academic affairs and provost. "The support provided by the Worthington Scholarship Foundation will positively impact these Husson students for the rest of their lives. On behalf of everyone at the University, I would like to thank Beverly and David Worthington for making these generous scholarships possible. Our students are grateful beyond measure.
For more than 120 years, Husson University has demonstrated its adaptability and strength in delivering educational programs that prepare future leaders to meet the challenges of tomorrow through innovative undergraduate and graduate degrees. With a commitment to providing affordable classroom, online, and experiential learning opportunities, Husson University has become a top value in higher education. The characteristics of a Husson education include advanced knowledge provided through quality educational programs. According to a recent analysis of tuition and fees by US News & World Report, Husson University is one of the most affordable private colleges in New England. For more information on educational opportunities that can lead to personal and professional success, visit Husson.edu.