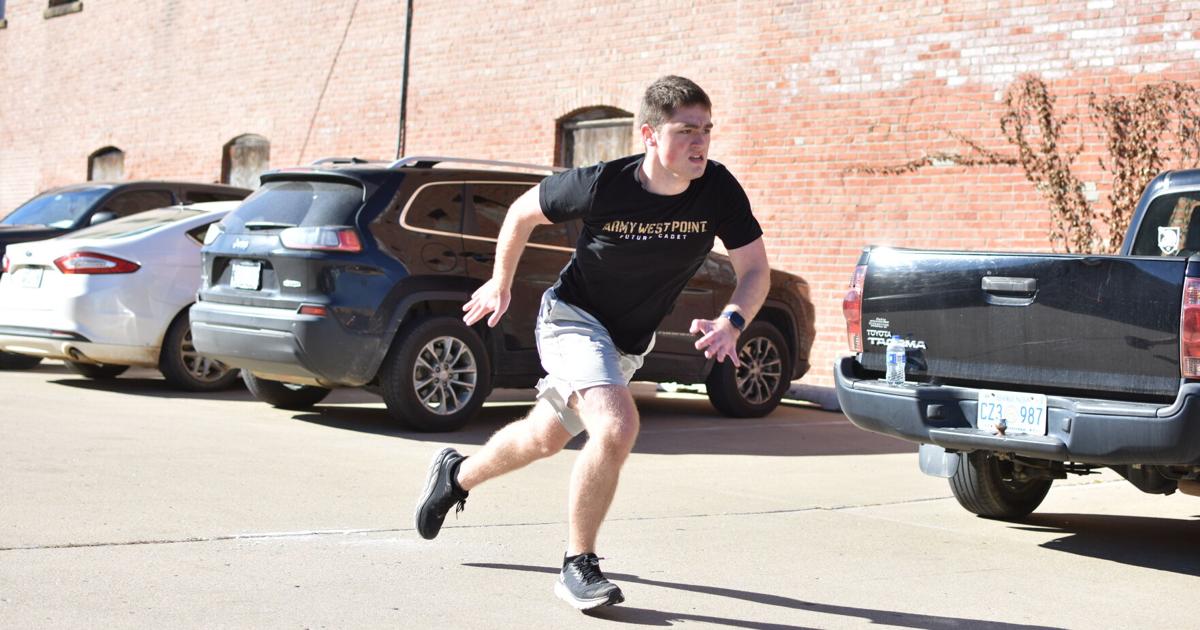 Student Goes to West Point: All-State College Student Gets a Place at the United States Military Academy | News
Six pull-ups and a kneeling one-handed basketball throw almost stopped Graham Curtsinger from achieving his dream.
Curtsinger, a senior at Verdigris High School, failed five of the six items of the Candidate Physical Fitness Assessment required to enter U.S. Military Academy West Point. A kneeling one-handed basketball throw, pull-ups, push-ups, shuttle run, sit-ups, push-ups, and a one-mile run are all included in the test.
"I started from scratch, I couldn't do pull-ups," Curtsinger said.
After about a month and a half of intense twice-daily training, Curtsinger called his mother within minutes of passing the assessment, realizing he was heading to West Point.
"I said, I have to call my mom, I'll be right back," Curtsinger said. "I ran up and said, 'Mom, I did it.'"
Curtsinger was training at CrossFit Parts Unknown when he came into contact with 2007 West Point graduate Nick Blunt, who also frequents the gym. Blunt, along with gym owners Kayleigh and Ray Peterson and trainer Madison Johnston, worked with Curtsinger to try to help him pass the assessment.
Blunt said Curtsinger did the work necessary to achieve his goals and managed his nutrition with Coach Johnston.
"I helped him get into the program," Blunt said. "I introduced him to people who could help him, but he got the job done. It was all him. He got into it.
West Point has an acceptance rate of around 10%, according to its website. Curtsinger not only had to pass a physical fitness evaluation, but also proved to be exceptional in academic and leadership roles to be accepted into the academy.
He is a National Merit Scholar semi-finalist and an Academic All-State. He also received a letter of recommendation from the two Oklahoma senators.
Graham said the support of his brother Dax, his sisters Reagan and Reese, and his parents Brian and Tracy helped keep him motivated.
Graham's mother, Tracy, said he was a kind and gentle child who always put God at the center of his life.
"Since his freshman year of high school, he knew West Point was his goal and worked so hard to achieve his dream," Tracy said. "His dad and I couldn't be more proud of him."
Graham will travel to New York on June 27 to begin training. West Point graduates must serve at least five years on active duty and three years on active reserve, but Graham said he plans to stay as long as he can and pursue a career in the military.
"Don't give up when it's tough because it can become very easy to think, 'This is too big a hurdle, there's no way to get past it,'" Graham said.
CrossFit Parts Unknown co-owner Kayleigh Peterson said everyone at the gym wishes Graham well and they can't wait to see how he's doing.
Blunt said helping to continue "The Long Gray Line" of cadets at West Point is an honor.
"I'm extremely proud of him," Blunt said. "I am very excited for him. It's a huge opportunity. I'm sure he will make Claremore, Verdigris and Tulsa proud. He will represent the entire state of Oklahoma there.