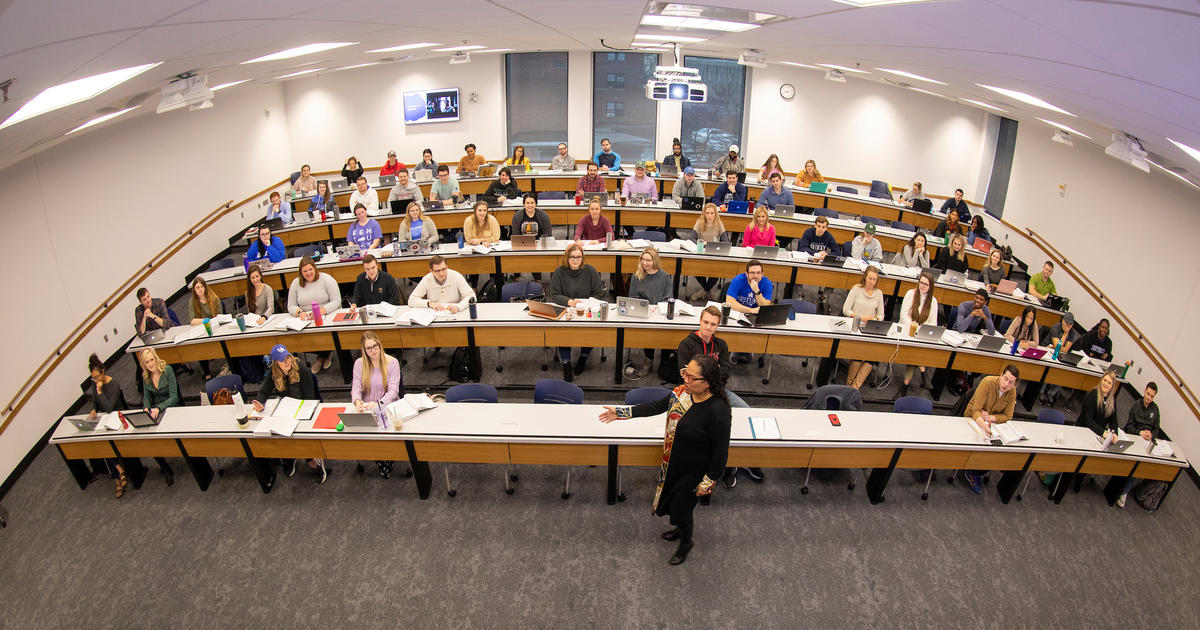 The Chellgren Center invites nominations for Chellgren endowed faculty appointments
LEXINGTON, Kentucky (September 21, 2022) — The University of Kentucky Chellgren Undergraduate Center of Excellence Endowment will fund five new professorships commencing at the start of the 2023 spring or fall semesters. Each faculty position will be filled for a three-year, non-renewable term. The Chellgren Endowed Professorships are reserved for tenured professors in the UK who have outstanding credentials as teachers and researchers with a deep interest in undergraduate excellence.
The mission of the Chellgren Center for Undergraduate Excellence is to advance the UK's commitment to three main areas: student excellence, teaching excellence and program excellence. The goal is for the university to be nationally recognized as a beacon of undergraduate excellence. The mission of the Chellgren Center contributes to this goal by raising the aspirations of UK students; to help students realize their highest academic potential; inspire progressive reform and innovation in teaching, learning and curriculum development; and fostering creative and productive collaborations among the many programs and departments engaged in undergraduate mission.
To be named a Chellgren Endowed Professor, a faculty member must (1) take on a leadership assignment for a campus-wide undergraduate excellence program or initiative, or (2) propose an independent project that comprehensively addresses at least one of the following areas of focus that can improve undergraduate education, as evidenced, in part, by improved retention and graduation rates:
Development of new courses which may include those that incorporate cultural competency, collaborative learning, problem solving, creative thinking and teamwork to enhance student skills and help prepare them for a workplace constantly evolving.
Identify and/or develop new undergraduate programs (including certificates, dual degrees, multidisciplinary and transdisciplinary offerings) that will broaden student preparation and prepare students to become leaders and scholars in a diverse global society.
Revision of existing courses.
Curricular reform which may include the integration of curricular and extracurricular activities designed to promote student engagement, diversity, and retention.
Creation of educational innovations.
Design and implementation of new assessment procedures that may include the assessment of academic achievement, student well-being and belonging.
Identify, embed, and propose strategies to embed high-impact practices into curricula and majors.
Created new programs that strengthen collaboration between college programs and Academic Success Office units.
Each Chellgren endowed teacher assumes responsibility for the following:
conduct an educational project or accept a leadership assignment for a program or initiative affiliated with the Chellgren Center;
serve as an active member of the Chellgren Center faculty team by participating in regular discussions regarding excellence in education in the UK;
participate in the review committees for external scholarships; and
deliver a public lecture that either outlines the research project being pursued during the chair's tenure or addresses a topic relevant to enhancing the UK undergraduate experience.
Eligibility: Any tenured faculty member in the UK can apply with a history of deep and sustained commitment to undergraduate teaching.
Application: A completed application should be submitted electronically to the Chellgren Endowed Faculty Selection Committee via email at [email protected] no later than November 1, 2022. The request must include the following:
a letter of interest;
a brief curriculum vitae or up-to-date curriculum vitae (maximum three pages);
a project proposal that clearly addresses one or more priority points identified above (maximum three pages), or a description of a leadership assignment appropriate to the mission of the Chellgren Center (maximum two pages);
most recent teaching portfolio (which may be updated at the candidate's discretion); and
a letter of support from the candidate's dean.
Selection of gifted teachers: In consultation with the Senior Associate Provost for Administration and Academic Affairs, the Provost nominates Chellgren Endowed Professors from a list of finalists forwarded by the Chellgren Endowed Professor Search Committee.
Compensation: Each Chellgren Endowed Professor Fellowship carries a stipend of $5,000 per year for the duration of the appointment, which can be used in any proportion for salary or research support. The preferred strategy is to fund Chairs as overload assignments, but alternative strategies can be proposed in consultation with Deans. With overload assignments, additional compensation/research support is possible.
Announcement: New Chellgren staffed faculty will be announced no later than December 10, 2022.
If you have any questions about the application process, please direct them to Isabel C. Escobar (Chellgren Endowed Chair): [email protected]
The Chellgren Center will host an open house on Tuesday, September 27 from 11:30 a.m. to 1 p.m. on the second floor of the Funkhouser building (rooms 224, 211, and 219/221). Stop by to welcome our newest class of scholars, meet President Escobar, and learn more about the Chellgren Center, Office of Nationally Competitive Awards, and Campus Partner — the Office of University Research.
The Chellgren Student Fellows program is supported by the Chellgren Center for Undergraduate Excellence within the Office of the Provost. To learn more about the Chellgren Center for Undergraduate Excellence, please visit www.uky.edu/chellgren/.