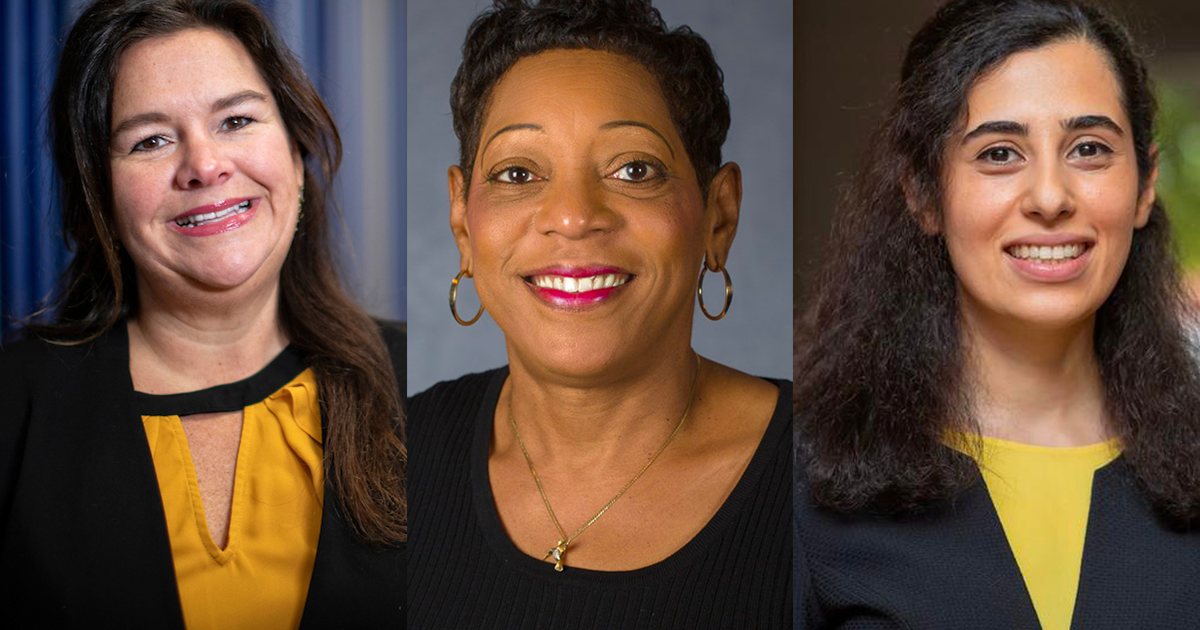 UK Women's Forum announces 2022 Sarah Bennett Holmes winners
LEXINGTON, Ky. (April 6, 2022) — The University of Kentucky Women's Forum hosted a virtual awards ceremony on Wednesday, March 30 to honor four honorees who reflect the achievements and legacy of Sarah Bennett Holmes. The 2022 Sarah Bennett Holmes Award winners are: Carrie Oser (Faculty), Mehrana Mohtasebi (Graduate Student), Clarissa Cheatwood (Staff) and UK Department of Neurology Wellbeing and Resilience Committee (Team) .
These awards recognize individuals and teams who promote the growth and well-being of women in college and throughout Kentucky. Faculty, staff, and graduate student recipients receive a cash award and plaque. The team and its members receive a framed certificate for their achievement. All winners are named on plaques in the main building. The Sarah Bennett Holmes Awards are among the most esteemed awards given in the UK and reward efforts that might otherwise go unnoticed.
2022 Faculty Award Winner: Carrier Oser
Carrie Oser, Ph.D., is a DiSilvestro Endowed Professor in the UK Department of Sociology, Associate Director of the Center for Health Equity Transformation and a faculty member of the Center on Drug and Alcohol Research in the UK. Dare is passionate about conducting high-impact research to improve the lives of people with substance use disorders, especially underrepresented populations and women. She has been continuously funded as a Principal Investigator for over a decade by the National Institutes of Health, has published over 100 peer-reviewed articles, and mentored over 50 graduate students and young faculty.
2022 Graduate Student Award Winner: Mehrana Mohtasebi
Mehrana Mohtasebi holds a Ph.D. Candidate for the Department of Biomedical Engineering at the UK College of Engineering. Mohtasebi completed his master's degree in Iran and moved to the United States in 2018. Competitive awards received include the American Heart Association Predoctoral Fellowship, Biomedical Engineering Society Career Development Award, and Student Award outstanding biomedical engineering graduates from UK. Leadership positions held include President of the UK Student Chapter of the Biomedical Engineering Society, Representative to the UK Graduate Student Congress and Member of the Graduate Student Congress Professional Development and Networking Committee.
2022 Staff Award Winner: Clarissa Cheatwood
Clarissa Cheatwood was born and raised in Louisville. She worked for the city of Louisville as a community organizer for five years, then spent 20 years working in dietary and food services in hospitals and nursing homes. Since 2008, Clarissa has been employed by the UK Cooperative Extension Service in Jefferson County as a nutritional assistant. In this position, she works with community groups, including women's and men's addiction groups, refugees, adult education, language barrier groups, schools, community centers and health centers, to promote healthy eating and cooking for low-income families.
2022 Team Award Winner: Department of Neurology Wellness and Resilience Committee
Physician wellness and burnout are significant issues and a growing concern in the medical profession. The Wellness and Resilience Committee has recognized these challenges, particularly those faced by female physicians, and has spearheaded several projects to support mental health and wellness. The team organized events to provide an opportunity to network and relax, provided postpartum support to resident physicians, and organized or collaborated on research projects focused on gender bias and career advancement. Team members have given guest lectures and continue to explore opportunities to expand and improve their work. Committee members are: Larry Goldstein, Zabeen Mahuwala, Padmaja Sudhakar, Timothy Ainger, Amanda Glueck, Ann Stowe, Julie Gurwell, Lindsey Noll, Zahra Haghighat, Patricia Olson, Thien Nguyen and Saniya Pervin.
The 2022 Holmes Prize nominees included five faculty members, six staff members, four graduate students and two teams. Congratulations to each of the nominees below.
Category: Faculty
Elizabeth P. Arnold, School of Music
Yoon Bae, Theater and Dance Department
Karyn Hinkle, Library of Fine Arts
Carrie Oser, Department of Sociology
Susie Thiel, Department of Theater and Dance
Category: Graduate Student
Melissa Chilcote, College of Social Work, MSW Program
Madison Miller, College of Social Work, MSW Program
Mehrana Mohtasebi, F. Joseph Halcomb III, MD Department of Biomedical Engineering
Mariana Russo, College of Social Work, MSW Program
Category: Personal
Clarissa Cheatwood, Family and Consumer Science Extension — Nutrition Education Program
Olivia Ellis, Education Abroad and Exchanges
Cathy Fellows, Family and Consumer Science Extension — Nutrition Education Program
Alicia Gregory, Research Communications
Caroline Nofio, Office of Medical Education
Belinda Rubio, College of Fine Arts
Category: Team
Department of Neurology Wellness and Resilience Committee: Larry Goldstein, Zabeen Mahuwala, Padmaja Sudhakar, Timothy Ainger, Amanda Glueck, Ann Stowe, Julie Gurwell, Lindsey Noll, Zahra Haghighat, Patricia Olson, Thien Nguyen, and Saniya Pervin.
Healthy Hearts for Women Symposium, Pharmacology and Nutritional Sciences, Faculty of Medicine: Analia Loria and Frédérique Yiannikouris
For a list of past winners, visit https://www.uky.edu/womensforum/sarah-bennett-holmes-award.
Sarah Bennett Holmes, a prominent former Dean of Women in the UK, has been a tireless advocate for women's rights throughout her career. Widowed at a young age, Holmes raised four children while pursuing her own education. She then embarked on a successful career in college where she inspired young women to persevere in the face of hardship and pursue their career goals. Among her accomplishments, Holmes developed work programs for women during the Depression.
In her honour, the UK Women's Forum established the Sarah Bennett Holmes Award and since 1994 has honored women in the UK who demonstrate the same principles as Holmes through their work and service.
The UK Women's Forum is an organization for all university faculty and staff employees. Its mission is to exercise a leadership role in empowering, validating, informing, including and celebrating all employed women in the UK by addressing challenges, communicating issues and acknowledging the success in the context of the workplace.
For more information about the UK Women's Forum, visit https://www.uky.edu/womensforum/ or contact [email protected]